Interview by Avery Keatley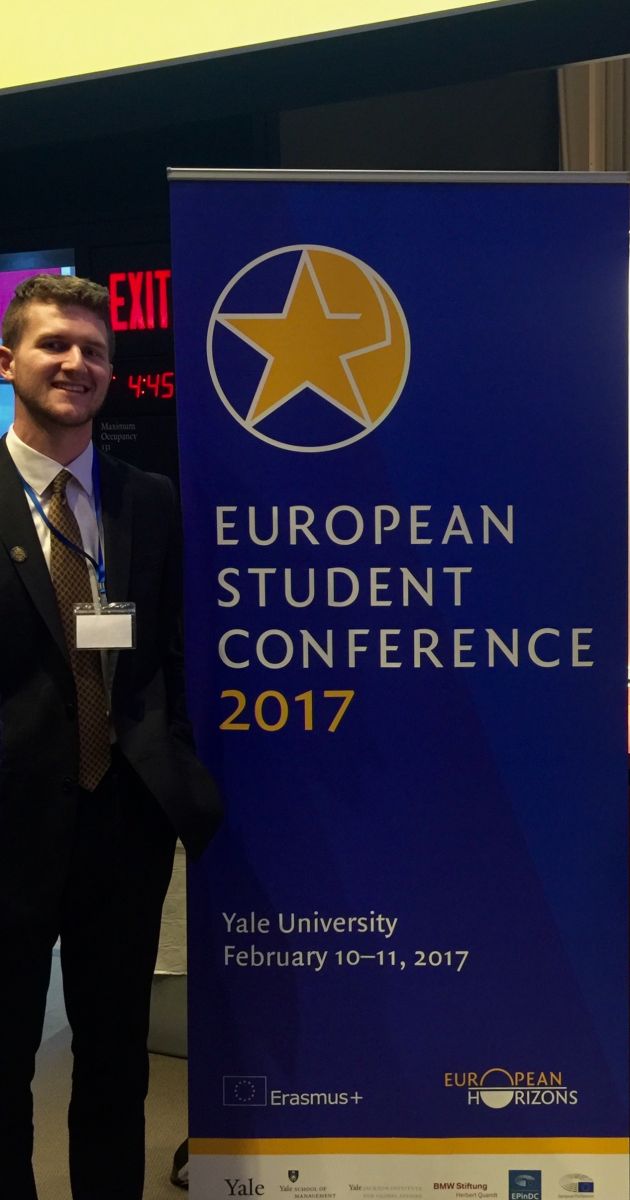 Samuel Blair is a senior majoring in Economics and Political Science, with a certificate in EU Studies. Originally from Dayton, Ohio, he became interested in EU studies after taking a trip to Ireland with his family, and decided to pursue his interest in at Pitt. Samuel received a scholarship from the ESC to help fund his study abroad term at the University of Birmingham. He also recently attended the European Student Conference at Yale University, where he collaborated with a group from across the country to write, revise, present, and publish a policy proposal. 
Q: What made you want to study the EU? Did something strike you in Ireland?
A: I was at a beach with my family, and it was a really beautiful beach. And there was a sign there, that it was an EU Blue Flag Beach, that the EU had done some work just cleaning up the area, making it suitable for tourism. So I just got interested in the EU's role in Ireland. I knew that it was probably a big part, and I just wanted to learn more.
Q: How does an EU Studies Ceritificate fit in with your major in Poli Sci?
A: I'm concentrating my political science degree in international relations. So, I took that in a way that made it Transatlantic in terms of international relations. [I] ended up taking a political science class, Transatlantic Policy and Communication Analysis, that really set the ground and helped me for the conference that I went to. 
Q: What was the conference like?
A: I met a lot of really interesting, determined individuals. There were a lot of interesting guest speakers: Nobel Laureates, the French ambassador to the US. We got to work in workshops with our policy groups, and we finally got to present [our policy proposals] to industry experts, get feedback, and revise them again. They'll be published actually in The Review of European and Transatlantic Affairs. So, it was a really exciting and satisfactory conference. 
Q: Was the conference focused around one issue?
A: Each workshop that students participate in has a different theme. One was identity, one was migration, mine was the European foreign and security policy. I was part of a team [focused on] new counterterrorism strategy. I wrote the proposals section, and my teammates wrote the challenges and analysis sections. So we all worked together. 
Q: So, you'd been working on these policies leading up to the conference. How long had you been working toward this?
A: I applied in October, and then the conference was in February. So they gave us some stuff to read before be started writing our policy papers. So then, really in the beginning of January, we started having weekly video chats. We submitted rough and final drafts and feedback. It was a lot of revision before the conference. 
Q: What would you say for students interested? What should they do to get there?
A: I would just say, it's really good as an educational experience and [for] making connections with like-minded people. To get there, the Transatlantic Policy and Communication Analysis class was helpful in learning the policy-writing skill that was necessary for successful policy writing at the conference.
Q: Anything else you'd like to share about the European Student Conference?
A: We got to listen to an artist speak on Friday night. She was from Greece, and her art…was more political in nature, about refugees. It was cool to hear from speakers who weren't from academic or policy backgrounds. She won a grant to help her bring to life a virtual reality simulation of the path that refugees take. So, a lot of good ideas coming out of the conference that aren't just policy proposals.