Newman Award for International Intergenerational Project Initiatives
Newman Award for International Intergenerational Project Initiatives 2016
Th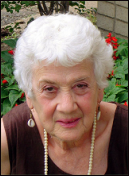 e Newman Award for International Intergenerational Project Initiatives, supported by a privately funded endowment, is intended to defray expenses of international travel incurred by University of Pittsburgh graduate and rising undergraduate students involved in an academic project with an international intergenerational component. Intergenerational projects involve the participation of a community's older and younger persons in planned, ongoing interactions that address a social issue confronting the community. These projects directly impact the health, education or overall quality of life of the community's young and old. Thus, the award supports programmatic development (preferred) or research initiatives that enrich the lives of local people in a developing country. The award will not be granted for conference participation. Previous student awardees have conducted projects with greatly varied foci including acceptance and use of World Health Organiztaion surgical check forms by physicians (Medical School) and creation of a children's book of stories in three languages: English, Quechua, and Spanish (Social Sciences).
Eligibility
Eligible applicants will be full-time University of Pittsburgh graduate and rising undergraduate students enrolled in a UCIS graduate certificate program during the grant award period. All applicants must be registered as Pitt students during the period the award is used. Seniors who do not plan to graduate until the end of the summer term 2016, or who are returning as Pitt graduate students in fall 2016, are eligible and may use the award in summer 2016. Seniors who are graduating in April 2016 and will not subsequently be a registered Pitt student are not eligible. A student must have a faculty supervisor for their trip abroad and the experience should enable the student to receive academic credit for the work completed.
The geographic location of the project must reflect the global, international or regional focus of the student's UCIS certificate program. Applicants may propose participation in a new intergenerational initiative (supervised by a Pitt faculty member), or join an existing Pitt program or project with an intergenerational component. An applicant may propose continuing in a project in which they had participated the previous year and can add the intergenerational component that is a condition of receiving this award. Field research projects and internships may be eligible for support.
Amount of Grant
This competitive grant is for $1,000, with only one award made per academic year.
Allowable Expenses
The award may be used to support the applicant's ground and air transportation to and from the project site, and/or lodging and meal expenses during the project.
Funding Priorities
Beyond the basic criteria described above, preference will be given to projects that have a potential for continuing beyond the student's participation, and of having a future impact on the local community through a linkage with a local or regional initiative.
Grantee Obligations
• Grantees are responsible for obtaining IRB approval if this is a research project and this approval is required. For a reseach project, the grantee must provide documentation of IRB approval before a grant can be awarded. In the case of observing an intergenerational project, the proposed project may be exempt, but it is the responsibility of the student to contact the IRB for guidance. For further information, check the IRB web site at www.irb.pitt.edu.
• Grantees must provide evidence of other sources of available or expected funding to meet remaining project costs.
• Grantees are required to submit a final report explaining the use of the funds and the outcomes of the supported activity no later than two months after the activity is completed. There is an opportunity for students to revise their report and create an article suitable for submission to and publication in the Journal of Intergenerational Relationships.
Application Procedure, Deadline and Contact Information
A completed application form, project description, current transcript, and at least one relevant letter of recommendation must be submitted to initiate the review process. Newman Award applications to be applied in the summer or fall terms of 2016 must be submitted no later than March 22, 2016. Awards are not intended for activities conducted during the spring term. For questions, please contact Veronica Dristas, Associate Director, Global Studies Center, at dristas@pitt.edu.
Submit your application materials online here via Submittable.