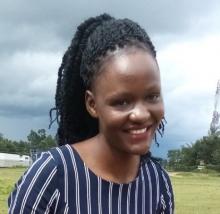 Joyce Nerea Mutsoli joins us from Kakamega Country, Kenya. She teaches English/Literature in a remote school called Siwar Secondary School located within Siaya County. She graduated from Kisii University with a Bachelor's Degree in Education (English/Literature).
Joyce is a passionate teacher who works towards helping her students achieve their goals. She enjoys writing fictional stories, which have been published within the East African region at large. She is also an ardent soccer player and coaches students as well.
She is thrilled to share her culture with the students at Pitt. She is looking forward to assisting students with Swahili language acquisition and hosting conversation hours to enhance their speaking skills.