Submitted by

MST44

on Mon, 11/01/2021 - 16:18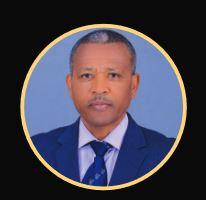 Duquesne University's visiting scholar is Prof. Dr. Yemataw Wondie Yehualashet from the University of Gondhar, Ethiopia. As accomplished and renowned as he is, partaking and leading in multiple research developments, his life could have been very different. Growing up in the countryside, education was not as accessible as in the Western world. He recalls having to jog 20 km (12 miles) to and from school. For reference, that's like going to Homestead or Mt Lebanon from Pitt's campus. Afterwards, he would have to tend the sheep with his family before doing his homework.  
 
As an intelligent and scholarly boy, he was determined to become a professor at a university. In the drive to further his education — even in a war— he sold his radio, which was awarded to him during one of his scholastic competitions. His family used the money to move to a more peaceful area and continue his education back in 1990. During his university years, he led a few research studies as well as gained international experience, including his PhD, in Clinical Psychology from the University of Leipzig in Germany.  
 
After pioneering multiple improvements at the University of Gondar, he was awarded the prestigious Fulbright in 2016 for his post-doctoral research and training hosted by the University of Montana. There, he lectured and visited eight universities throughout the United States. Back at the University of Leipzig as a visiting scientist, he researched chronic illness, psychological comorbidities, and quality of life among cancer patients. Another area of interest to him is the development mental health issues. In Ethiopia, he focused on areas like post-traumatic stress disorders in relation to survivors of child sexual abuse and politically motivated torture. To help children's cognitive development, Dr. Yehualashet also completed research on school mental health, with emphasis on Ethiopian children in kindergarten and primary schools. 
 
Of all his awards and achievements, he considers the best to be the Georg Forster Research Award from the Alexander von Humboldt Foundation. Currently, he is a visiting scholar at the Center for African Studies at Duquesne University in a scholar-in-residence program. He is part of a collaborative book-writing project on psychological trauma and cultural healing in Africa, highlighting the relationship between traumatic experiences, their multifaceted impacts, assessment techniques, and contextual counseling and therapeutic interventions.  
 
Even despite his accomplishments, he wishes he could have done more to uplift and help those who come from situations similar As stated in the paragraphs, education is not a luxury-- and these conditions worsen it. We must direct our efforts towards supporting and relieving the plight of innocent people experiencing this tragedy rather than mistaking perpetrators as victims
 
To call attention to the socioeconomic and political situation in Ethiopia, he will be hosting a presentation. In this, he will highlight the psychological, physical, ecological, and socio-economic crisis of war in Ethiopia.