2020 CLAS Photography Competition:
Pitt in Latin America, the Caribbean, and its Diasporas
Official Rules:
The competition is open to all current Pitt students (undergraduate and graduate) enrolled in one of the credentials offered by CLAS.
Photographs should be images taken by a student while traveling, studying, or living in Latin America, the Caribbean, or amongst diasporic communities. 
Each student may enter up to TWO photographs.
Each photograph must be accompanied by the photographer's name, date, and a brief description (see below).
Photographs will be evaluated by an external selection committee.
The First Prize photograph will be published on the cover of CLASicos and the owner will be awarded a $200 scholarship.
Prizes will be announced no later than

January 4, 2021

.
All submissions will be displayed on the Center for Latin American Studies website.
Submissions may be in landscape or portrait orientation and should be at least 300 dpi and not exceed 1920 x 1080 pixels (10 MB file size limit).
All submissions must include the following information:

Photographer's name
Title of photograph
Date taken
Location taken
Description
Please use the form below to submit your photo.
For any questions, please email Luz Amanda Hank at lavst12@pitt.edu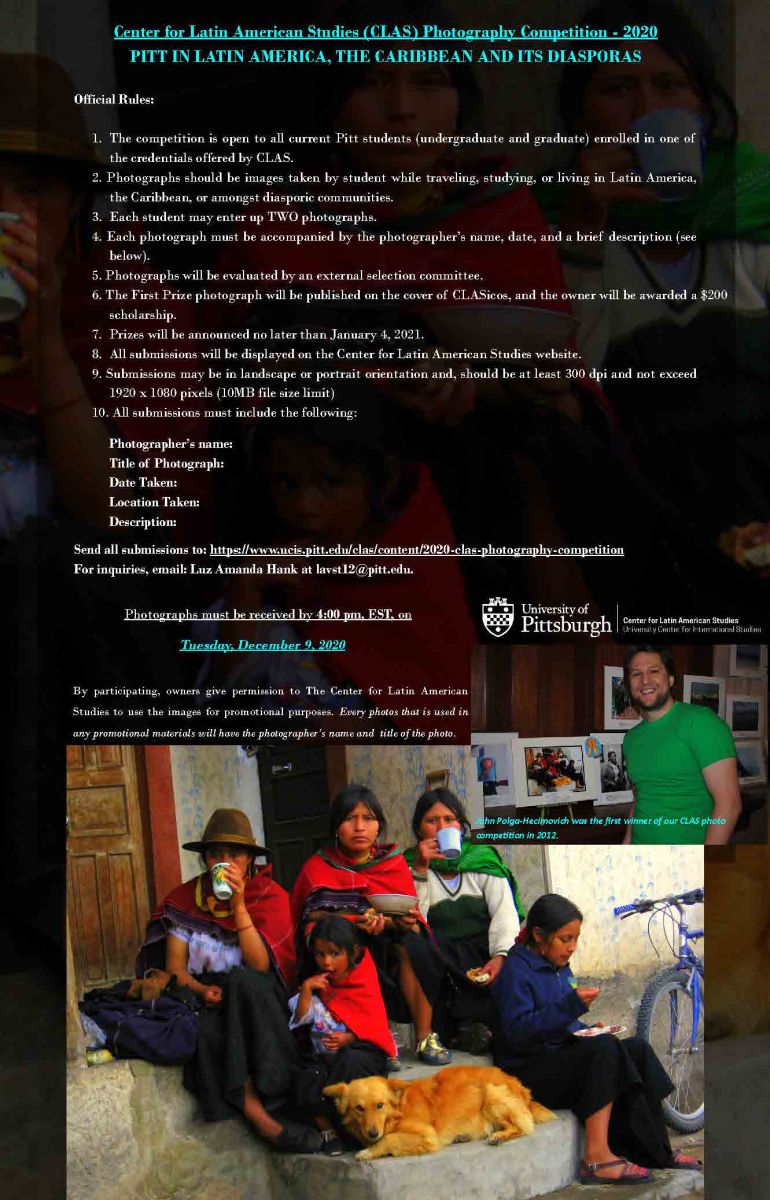 Click photo to expand
Photographs must be received by 4:00 pm EST on Tuesday, December 9, 2020.
---
By participating, owners give permission to the Center for Latin American Studies to use the images for promotional purposes. Every photo that is used in promotional materials will have the photographer's name and title of the photo.
Photography Competition Submission Form