Promo Image: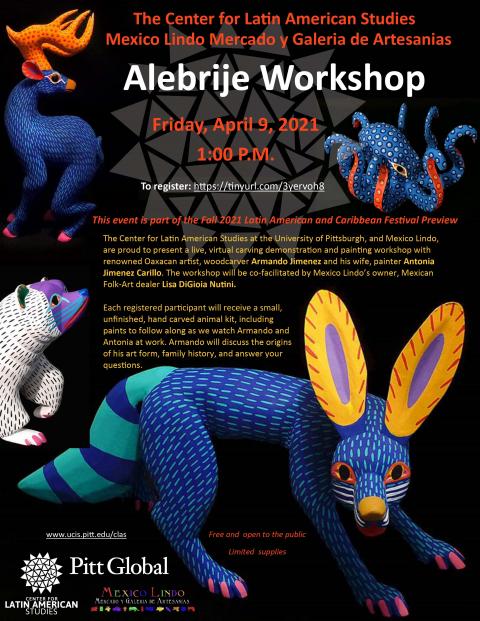 Presenter:
Armando Jimenez, Antonia Jimenez Carillo, and Lisa DiGioia Nutini
Date:
Friday, April 9, 2021 - 13:00
This event is part of the Fall 2021 Latin American and Caribbean Festival Preview. The Center for Latin American Studies at the University of Pittsburgh, and Mexico Lindo, are proud to present a live, virtual carving demonstration and painting workshop with renowned Oaxacan artist, woodcarver Armando Jimenez and his wife, painter Antonia Jimenez Carillo. The workshop will be co-facilitated by Mexico Lindo's owner, Mexican Folk-Art dealer Lisa DiGioia Nutini.
Each registered participant will receive a small, unfinished, hand carved animal kit, including paints to follow along as we watch Armando and Antonia at work. Armando will discuss the origins of his art form, family history, and answer your questions.
PLEASE NOTE: All of the alebrije kits have been claimed. For more information, please email lavst12@pitt.edu
UCIS Unit:
Center for Latin American Studies
Is Event Already in University Calendar?: