Promo Image: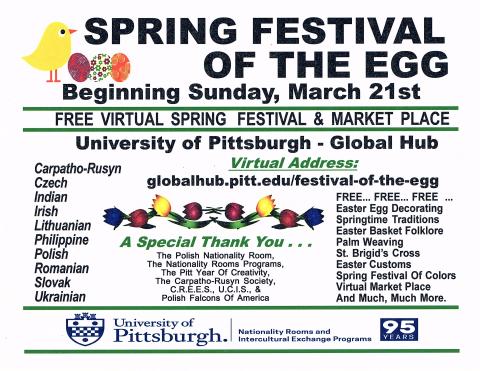 Presenter:
Nationality Rooms Programs
Date:
Sunday, March 21, 2021 (All day)

to

Sunday, March 28, 2021 (All day)
The Festival of the Egg is a family-oriented event welcoming the coming of Spring in many ethnic traditions. Celebrate ethnic traditions from India, Romania, Ireland, Lithuania, Poland, the Czech Republic, Slovakia, and Poland. Celebrate with Easter Egg Decorating, Spring Traditions, Easter basket folklore, palm weaving, Easter customs, spring festival of colors, virtual market place and much more!
UCIS Unit:
Center for Russian East European and Eurasian Studies
Nationality Rooms and Intercultural Exchange Programs
Is Event Already in University Calendar?: