Promo Image: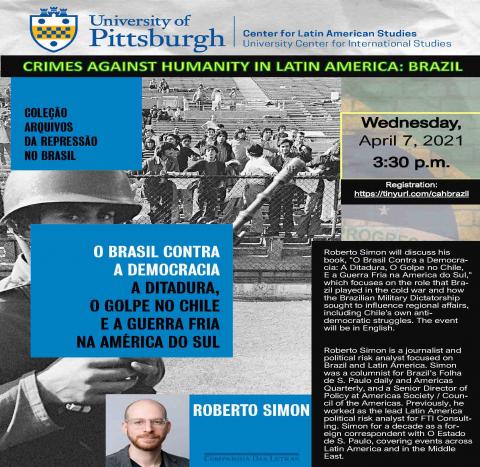 Date:
Wednesday, April 7, 2021 - 15:30
The next Crimes Against Humanity in Latin America Series event, Roberto Simon will discuss his book, "O Brasil Contra a Democracia: A Ditadura, O Golpe no Chile, E a Guerra Fria na America do Sul," which focuses on the role that Brazil played in the cold war and how the Brazilian Military Dictatorship sought to influence regional affairs, including Chile's own anti-democratic struggles. The event will be in English. Registration is required.
Roberto Simon is a journalist and political risk analyst focused on Brazil and Latin America. Simon was a columnist for Brazil's Folha de S. Paulo daily and Americas Quarterly, and a Senior Director of Policy at Americas Society / Council of the Americas. Previously, he worked as the lead Latin America political risk analyst for FTI Consulting. Simon for a decade as a foreign correspondent with O Estado de S. Paulo, covering events across Latin America and in the Middle East.
UCIS Unit:
Center for Latin American Studies
Is Event Already in University Calendar?: