Promo Image: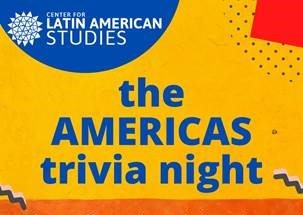 Date:
Friday, April 9, 2021 - 16:00
This event is part of the Fall 2021 Latin American and Caribbean Festival Preview. Join the Center for Latin American Studies (CLAS) at Pitt for a fun evening of Trivia about the Americas! Test your knowledge about North America, Latin America, and the Caribbean! You can register as an individual or as a team (we will have Break-out rooms for each team to set up). If you sign up as an individual, you will be given the choice to join a virtual team, and given time to meet your teammates.
If you have any questions about the AMERICAS Trivia Game, please email us at clas@pitt.edu.
UCIS Unit:
Center for Latin American Studies
Is Event Already in University Calendar?: