Promo Image: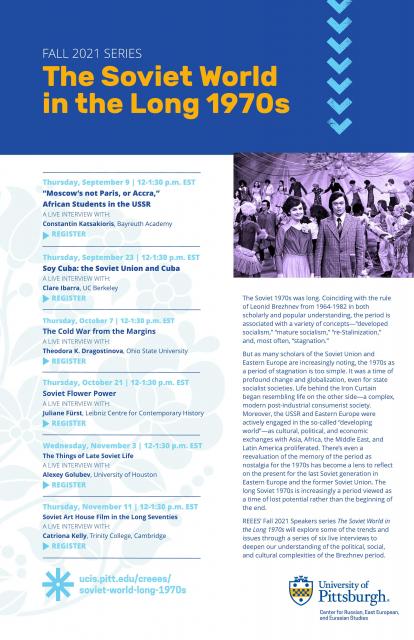 Presenter:
Catriona Kelly, Oxford University
Date:
Thursday, November 11, 2021 -

12:00

to

13:30
The 1960s and 1970s were a boon for Soviet film. After decades of fits and starts film production. Moviegoers flocked to the theaters. True, Soviet filmmakers leapt over hurdles to make art in an authoritarian society. But while the Brezhnev era of Soviet filmmaking is often depicted as a period of great repression, the films out of the prestigious Lenfilm studio were far more imaginative than assumed. How did a new generation of Soviet filmmakers reconcile contradictory demands to make sophisticated and highly original movies? This live interview with Catriona Kelly will discuss the history of the Lenfilm Studio and its striking oeuvre in the 1970s.
Register via Zoom:  https://pitt.zoom.us/webinar/register/WN_U_43USetSvewu9iugQ0B7Q
UCIS Unit:
Center for Russian East European and Eurasian Studies
Is Event Already in University Calendar?: