Promo Image: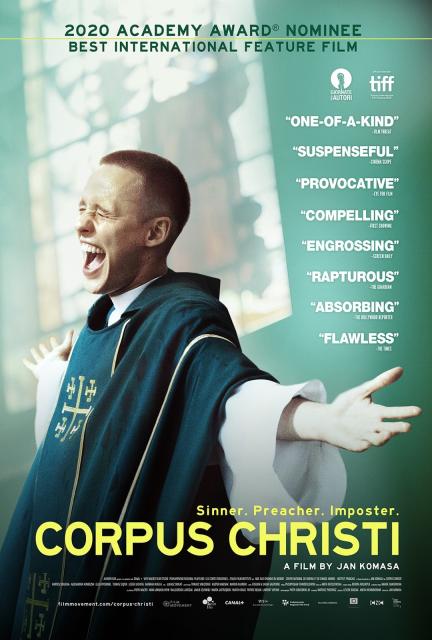 Date:
Tuesday, February 1, 2022 - 20:20
Corpus Christi is the story of 20-year-old Daniel who experiences a spiritual transformation while living in a youth detention centre. He wants to become a priest but this is impossible because of his criminal record. When he is sent to work at a carpenter's workshop in a small town, on arrival he dresses up as a priest and accidentally takes over the local parish. The arrival of the young, charismatic preacher is an opportunity for the local community to begin the healing process after a tragedy that happened there.
Directed by Jan Komasa
Poland, France | Polish language with English subtitles | DCP
Get Tickets: https://trustarts.org/production/78067
Mask Policy
All guests must wear a mask over the nose and mouth at all times while inside the Harris theater. Masks can be temporarily removed when a guest is eating and/or drinking while remaining in their seat at the Harris Theater. For complete information on health and safety policies of the Pittsburgh Cultural Trust, visit TrustArts.org/Welcome.
UCIS Unit:
Center for Russian East European and Eurasian Studies
European Studies Center
Other Pitt Sponsors:
Film and Media Studies Program
Non-University Sponsors:
Pittsburgh Cultural Trust
University of North Carolina at Chapel HillCenter for European Studies A Jean Monnet Center of Excellence and Miami-Florida Jean Monnet European Center of Excellence at Florida International University
Is Event Already in University Calendar?: