Promo Image: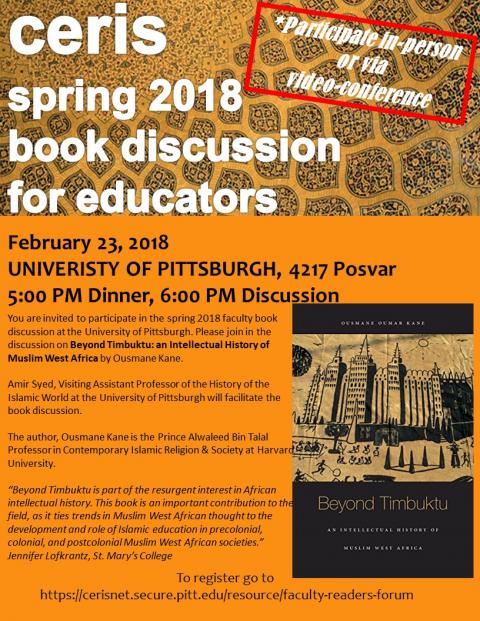 Date:
Friday, February 23, 2018 - 17:00
Faculty are invited to participate in the Consortium for Educational Resources on Islamic Studies (CERIS) spring 2018 faculty book discussion at the University of Pittsburgh on February 23, 2018. Dinner at 5:00 PM, Book Discussion at 6:00 PM.
Amir Syed, Visiting Assistant Professor of the History of the Islamic World at the University of Pittsburgh will facilitate the book discussion.
The author, Ousmane Kane is the Prince Alwaleed Bin Talal Professor in Contemporary Islamic Religion & Society at Harvard University.
"Beyond Timbuktu is part of the resurgent interest in African intellectual history. This book is an important contribution to the field, as it ties trends in Muslim West African thought to the development and role of Islamic education in precolonial, colonial, and postcolonial Muslim West African societies." -Jennifer Lofkrantz, St. Mary's College
To Register: https://docs.google.com/forms/d/e/1FAIpQLSeHS3vhlfZxbYujrkDq4ECEtGICJQ6C...
Other Pitt Sponsors:
Consortium for Educational Resources on Islamic Studies (CERIS)