Promo Image: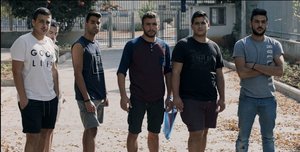 Date:
Thursday, September 27, 2018 - 20:00
Location:
Alumni Hall Auditorium, 7th Floor
Cost:
Free for Pitt Students, Faculty and Staff
Scaffolding depicts the coming of age of impulsive troublemaker Asher in his junior year of high school. Essentially sweet and charming, but mostly controlled by his own inner rage, Asher feels pressure from both his strict father who sees him as the natural successor to the family's scaffolding business and his gentle literature teacher Rami, the only person in his life who makes him believe he is capable of more than a laborer. Torn between this old school and new age masculinity, Asher has to take the ultimate test of maturity when sudden tragedy occurs.
Non-University Sponsors:
Silk Screen Film Festival