Promo Image: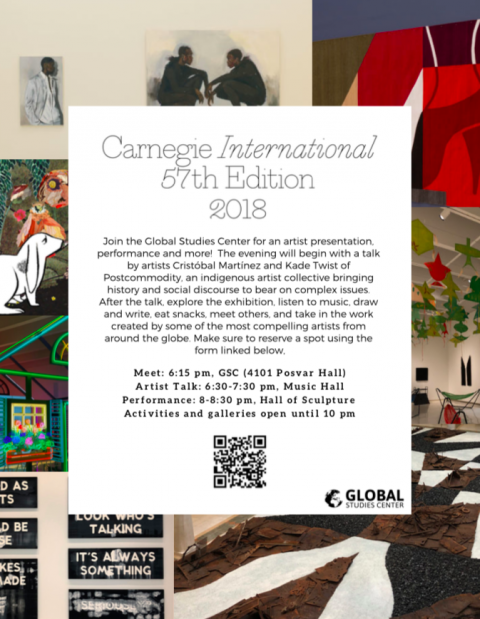 Presenter:
Cristóbal Martínez and Kade Twist
Date:
Thursday, November 1, 2018 -

18:30

to

22:00
Location:
Carnegie Music Hall & Hall of Sculpture
Carnegie International, 57th Edition, 2018
Thursday, November 1, 6:30-10:00 pm, Meet at GSC at 6:15 pm and walk over to the Carnegie.
To reserve a spot: https://docs.google.com/forms/d/e/1FAIpQLSd-6Q5VK30x_iTLkOgDNgKLZPJdxUrh...
Come for the lecture and stay as long as your schedule permits.
Join GSC for artist presentation, performance and more.
Artists Cristóbal Martínez and Kade Twist of Postcommodity will lead the evening with a discussion about their diverse practice. Their art has bridged the US-Mexico border, and projected sound into Aristotle's Lyceum. Through an indigenous lens, the collective's distinctive practice brings history and social discourse to bear on complex issues. The work of art that they have created for the Carnegie International embodies Pittsburgh's industrial history in steel, glass, and coal. Hear Martínez and Twist speak about the complexities of creating visual language and narrative around issues that challenge us today.
Meet at GSC at 6:15 p.m., 4101 Posvar Hall
Artist Talk: 6:30-7:30 p.m., Music Hall
Performance: 8-8:30 p.m., Hall of Sculpture
Activities and galleries open until 10 p.m.