Promo Image: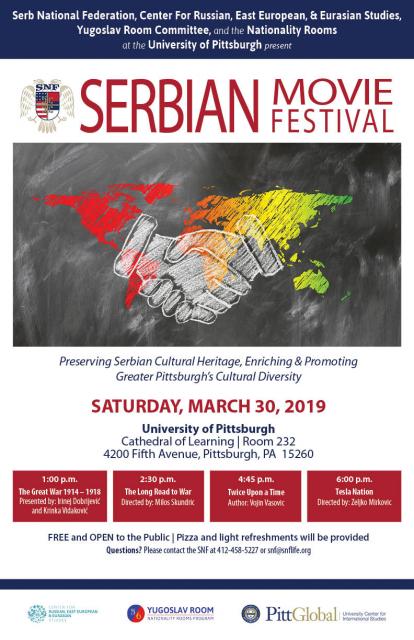 Presenter:
Irinej Dobrijevic and Krinka Vidakovic
Date:
Saturday, March 30, 2019 - 13:00
Location:
Cathedral of Learning, Room 232
Book presented by Bishop Irinej and Krinka V. Petrov. Pizza and light refreshments will be served.
The book is dedicated to the Great War, an event that shook the world one hundred years ago. Within this vast historical frame-work, this book focuses on the relationship between two Allies—the Kingdom of Serbia and the United States of America, including the role of the Serbian American Diaspora. The chapters in this book deal with general issues regarding Serbia's role in the Great War, beginning with the event that would trigger the war and put the small town of Sarajevo on the world map. This book offers a wealth of information as well as a fascinating narrative of the human urge to resist, survive, and be free to live and love.
UCIS Unit:
Center for Russian East European and Eurasian Studies
Other Pitt Sponsors:
Yugoslav Nationality Room
Nationality Rooms
Pitt Global