Promo Image: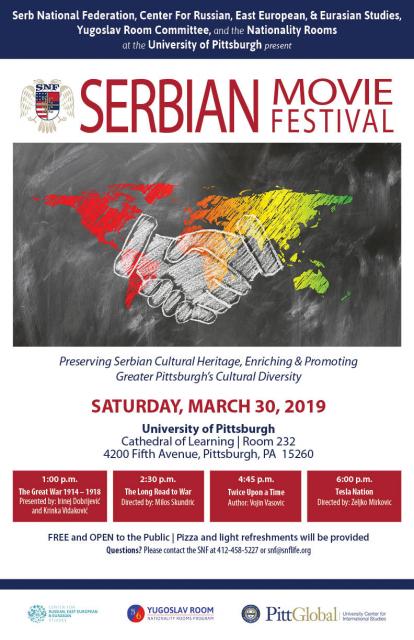 Date:
Saturday, March 30, 2019 - 18:00
Location:
Cathedral of Learning, Room 232
This film screening is a part of the Serbian Film Festival. Pizza and light refreshments will be served. Tesla Nation directed by Zeljko Mirkovic.
This marvelous documentary leads us through the Serbian-American history which spans more than 200 years. Serbian-American history began in a symbolic way with Djordje Sagic aka George Fisher who arrived through the port of Philadelphia at the beginning of the ninetieth century. After him, Serbian immigrants came in several waves and helped shape American history. The movie describes Serbian-American contributions
in building the United States and the world and the importance of preserving the Serbian heritage. Zeljko Jack Dimich, the Serbian-American Actor from New York, plays Nikola Tesla, the Serbian-American Scientist and Inventor, and is the narrator of the movie. The movie was sponsored by the Serb National Federation among others, and produced by Optimistic Film and Radio Television of Serbia.
UCIS Unit:
Center for Russian East European and Eurasian Studies
Other Pitt Sponsors:
Yugoslav Nationality Room
Pitt Global
Nationality Rooms