Promo Image: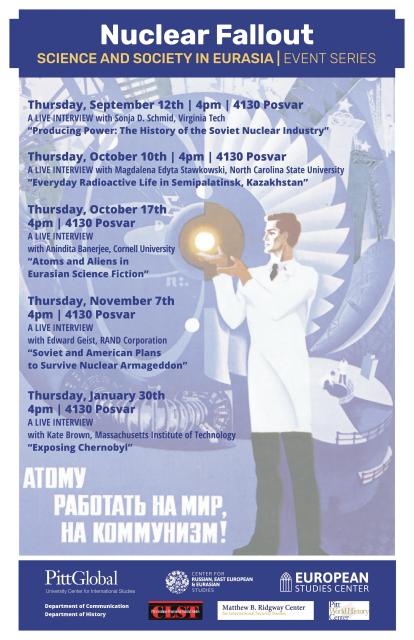 Presenter:
Anindita Banerjee, Department of Comparative Literature, Cornell University
Date:
Thursday, October 17, 2019 - 16:00
Location:
5405 Wesley W. Posvar Hall
Since the mid-20th century, science fiction has shaped our view of the nuclear. The possibilities and horrors of the nuclear has had a comparable impact on utopian and dystopian science fiction. American science fiction fans are well versed in the tropes. What was the relationship between the atom and Soviet/Post-Soviet science fiction? In this live interview, Anindita Banerjee will discuss the imagination of the nuclear in Soviet and post-Soviet science fiction.
UCIS Unit:
Center for African Studies
Asian Studies Center
Center for Russian East European and Eurasian Studies
Director's Office
European Studies Center
Global Studies Center
Other Pitt Sponsors:
Matthew B. Ridgway Center for International Security Studies
Department of Communication
Department of History
Cultural Studies Program
World History Center
World Regions:
Europe and Russia
Russia/Eastern Europe
Is Event Already in University Calendar?: