Subtitle:
Departures: Performance, Displacement, and Bodies in Post-Soviet Cuba
Activity Type:
Information Session
Performance
Promo Image: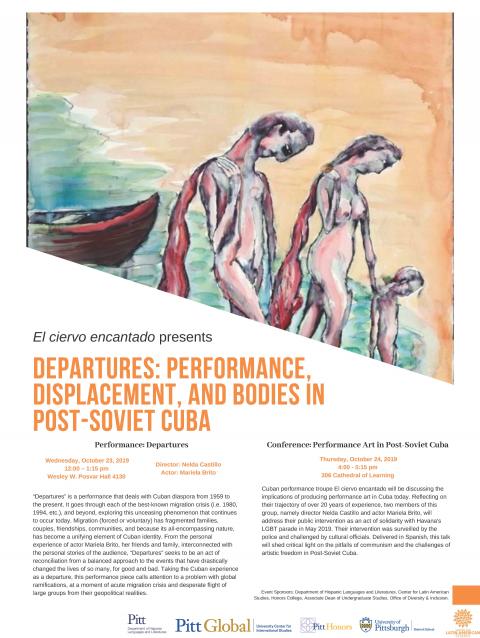 Date:
Wednesday, October 23, 2019 - 12:00
Location:
4130 Wesley W. Posvar Hall
El ciervo encantado presents
Departures: Performance, Displacement, and Bodies in Post-Soviet Cuba
Performance: Departures
Wednesday, October 23, 2019
12:00 – 1:15 pm
Wesley W. Posvar Hall 4130
"Departures" is a performance that deals with Cuban diaspora from 1959 to the present. It goes through each of the best-known migration crisis (i.e. 1980, 1994, etc.), and beyond, exploring this unceasing phenomenon that continues to occur today. Migration (forced or voluntary) has fragmented families, couples, friendships, communities, and because its all-encompassing nature,
has become a unifying element of Cuban identity. From the personal experience of actor Mariela Brito, her friends and family, interconnected with the personal stories of the audience, "Departures" seeks to be an act of reconciliation from a balanced approach to the events that have drastically changed the lives of so many, for good and bad. Taking the Cuban experience as a departure, this performance piece calls attention to a problem with global ramifications, at a moment of acute migration crisis and desperate flight of large groups from their geopolitical realities.
Director: Nelda Castillo
Actor: Mariela Brito
Conference: Performance Art in Post-Soviet Cuba
Thursday, October 24, 2019
4:00 - 5:15 pm
306 Cathedral of Learning
Cuban performance troupe El ciervo encantado will be discussing the implications of producing performance art in Cuba today.
Reflecting on their trajectory of over 20 years of experience, two members of this group, namely director Nelda Castillo and actor Mariela Brito, will address their public intervention as an act of solidarity with Havana's LGBT parade in May 2019. Their intervention was surveilled by the police and challenged by cultural officials. Delivered in Spanish, this talk will shed critical light on the pitfalls of communism and the challenges of artistic freedom in Post-Soviet Cuba.
Event Sponsors: Department of Hispanic Languages and Literatures, Center for Latin American Studies, Honors College, Associate Dean of Undergraduate Studies, Office of Diversity & Inclusion
UCIS Unit:
Center for Latin American Studies
Other Pitt Sponsors:
Department of Hispanic Languages and Literatures
Honors College
Associate Dean of Undergraduate Studies
Office of Diversity & Inclusion
Is Event Already in University Calendar?: