Promo Image: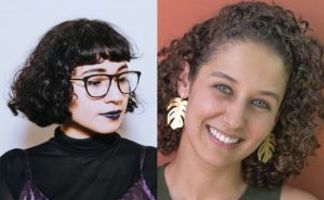 Date:
Tuesday, March 24, 2020 - 15:00
Location:
ttps://pitt.zoom.us/j/796110687
Join us for a reading celebrating the work of Latinx literary voices. This installment of the Latinx & Proud! Reading Series will feature Melissa Lozada-Oliva and Ana Portnoy Brimmer! Melissa Lozada-Oliva is an American poet and educator based in New York. She is the author of chapbooks Plastic Pajaros, Rude Girl is Lonely Girl! (Pizza Pi Press), and Peluda (Button Poetry 2017). Her poem, "Like Totally Whatever" won the 2015 National Poetry Slam Championship. Lozada-Oliva was born and raised in Newton, Massachusetts by immigrant parents; her mother is Guatemalan and her father is Colombian. Her work "explores, interrogates and redefines the intersections of Latina identity, feminism, hair removal & what it means to belong." Lozada-Oliva co-hosts Say More podcast with her best friend and fellow poet Olivia Gatwood.
Ana Portnoy Brimmer is a Puerto Rican poet and performer, writer and ARTivist. She holds a BA and an MA in English (Literature) from the University of Puerto Rico, and is currently an MFA candidate in Creative Writing (Poetry) at Rutgers University-Newark. Her chapbook manuscript, To Love An Island, is the winner of YesYes Book's 2019 Vinyl 45 Chapbook Contest, forthcoming in March 2020. Ana is the recipient of The Ancinas Family Scholarship; the inaugural recipient of the Sandra Cisneros Fellowship; a 2019 Pushcart Prize, Best New Poets and Best of the Net nominee; and a #PoetsForPuertoRico organizer. Her work has been published or is forthcoming in Winter Tangerine, Gulf Coast, Foundry Journal, Sx Salon, Huizache, Anomaly, Aftershocks of Disaster: Puerto Rico Before and After the Storm, Centro Journal, among others.
Latinx & Proud! Series Advisory Board: Adriana E. Ramírez, Eloisa Amezcua, Malcolm Friend & Karla Lamb The mission of the Latinx & Proud! reading series is to incite conversation, empower, & amplify the Latinx community in Pittsburgh, PA & beyond.
EVENT PRESENTED BY:
City Of Asylum
(412) 435-1110
UCIS Unit:
Center for Latin American Studies
Is Event Already in University Calendar?: