Promo Image: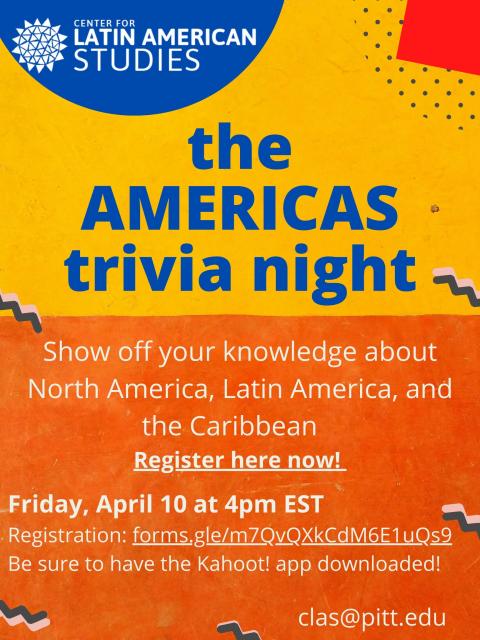 Date:
Friday, April 10, 2020 - 16:00
Cost:
Register at https://forms.gle/57Q4nQSX9124MCoy9
REGISTRATION is open:
https://forms.gle/57Q4nQSX9124MCoy9
CLAS/UCIS @ Pitt Event:
Join us for a fun afternoon and test your knowledge about the Americas (North, Central, South America and the Caribbean) by playing:
The AMERICAS Trivia Game
Be sure to have the Kahoot! app downloaded!
We will be opening registration on
Monday, April 6, at 4:00 p.m.
START GETTING YOUR TEAM READY!
After teams registered, we will be sending further instructions for the the day of the event.
If you have any questions about the AMERICAS Trivia Game, please email us at clas@pitt.edu. Thank you.
UCIS Unit:
Center for Latin American Studies
Is Event Already in University Calendar?: