Promo Image: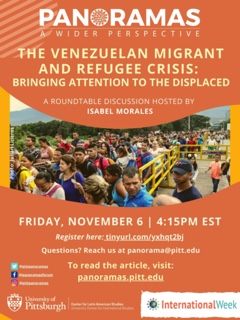 Date:
Friday, November 6, 2020 - 16:15
Join us on Friday, November 6, 2020 at 4:15 pm EST to discuss our featured article: The Venezuelan Migrant and Refugee Crisis: Bringing Attention to the Displaced, written by Panoramas Intern, Isabel Morales. To read the article, please visit: panoramas.pitt.edu
Around 4.2 million refugees and migrants from Venezuela have left their country seeking asylum. They are fleeing from a crisis characterized by violence, human rights violations, corruption, hyperinflation, and poverty. Unlike other refugee crises, the one in Venezuela is not due to conventional war or conflict, yet the conditions people face are not too different from those in an active war zone. Despite the massive scale of displacement, the humanitarian crisis remains highly underfunded, and the international community is not giving it the attention it needs to ensure the protection and security of these refugees.
Isabel Morales is an international student from Colombia at the University of Pittsburgh. She is currently a sophomore majoring in Economics with a minor in French and a Certificate in Latin American Studies. Through her experiences living in Colombia, the United States, and Israel, along with the opportunities offered by the university, she has become greatly interested in Latin American affairs and its role in the study of development economics. As a Panoramas intern, Isabel hopes to promote the region and continue exploring areas of interest such as politics, development, and human rights.
Registration required: https://tinyurl.com/yxhqt2bj
UCIS Unit:
Center for Latin American Studies
International Week
Is Event Already in University Calendar?: