Promo Image: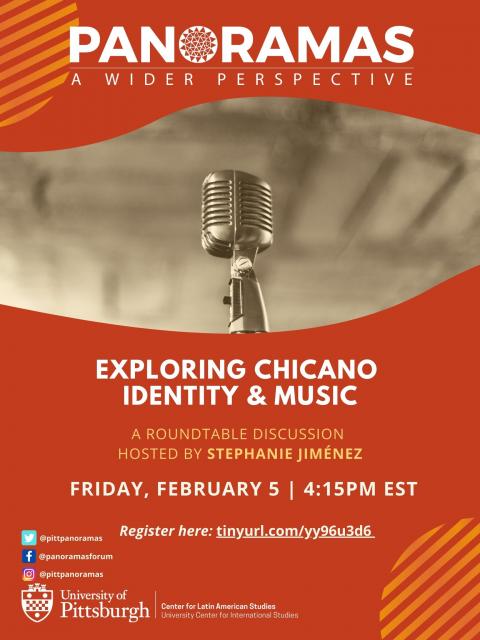 Date:
Friday, February 5, 2021 - 16:15
Chicano music today is very diverse, but what is the general criteria for Chicano music, if there really is any? Are there particular genres that are exclusively Chicano, or can Chicano music encompass other genres or hybrids like cumbia, rap, or rock? Is Chicano music exclusively made by Chicano people or can any Mexican and/or Mexican American musician contribute? Finally, does Chicano music have to talk about Chicano culture and/or issues?
About the Round Table Discussion Leader: Stephanie Jiménez is Mexican American and was raised in Pittsburgh. They are currently pursuing a BS in environmental science and a BA in music via the global and popular music track. They are also working towards certificates in geographical information systems, Latin American studies, and sustainability. They draw on their cultural background and disciplines to forge studies on the intersections between the environment and music. Through their teaching experience at the Shuman Juvenile Detention Center (Florida Recycled), Pitt's Center for Creativity, and the Allegheny Land Trust, they have begun exploring how science and music are tools for advocacy work.
Registration required: https://tinyurl.com/yy96u3d6
UCIS Unit:
Center for Latin American Studies
Is Event Already in University Calendar?: