Promo Image: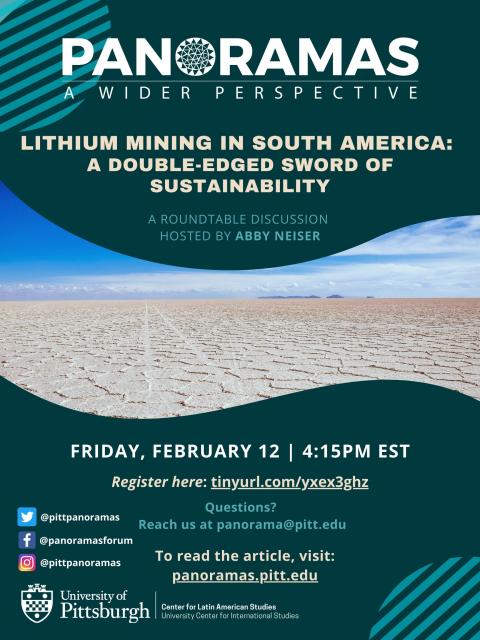 Date:
Friday, February 12, 2021 - 16:15
With lithium-ion batteries powering electric cars, lithium mining is likely to be a high-demand industry in the coming years. Much of the world's lithium is found in the Lithium Triangle in Chile, Argentina, and Bolivia. While at face value mining in the Lithium Triangle may be a good economic opportunity to power a more environmentally friendly means of transportation, the impact that it has on the environment and local communities raises the question of how sustainable it really is.
Abby Neiser is a senior at the University of Pittsburgh majoring in Political Science and Spanish with a minor in Portuguese and a Certificate in Latin American Studies. During the summer of 2019, she studied abroad in Cuba as part of the Pitt in Cuba program. She is also the President of the Luso-Brazilian Student Association at Pitt. She is one of the 2020-2021 Panoramas Interns.
Registration Link: https://tinyurl.com/yxex3ghz
UCIS Unit:
Center for Latin American Studies
Is Event Already in University Calendar?: