Promo Image: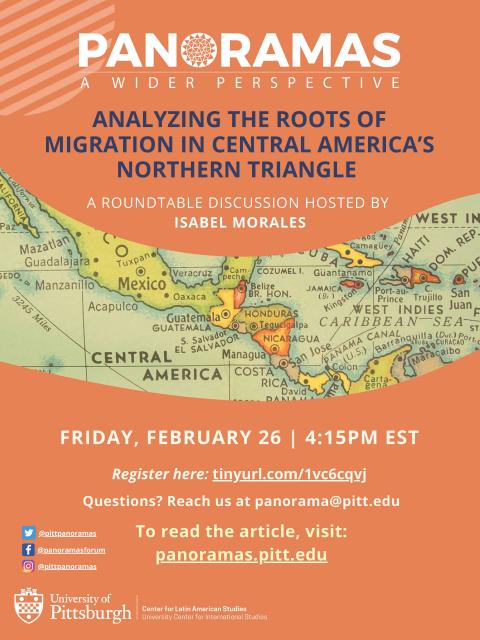 Date:
Friday, February 26, 2021 - 16:15
Join us on Friday, February 26th at 4:15 pm for our next Panoramas Roundtable to discuss our featured article: "Analyzing the Roots of Migration in Central America's Northern Triangle," written by Panoramas Intern, Isabel Morales. To read the article, please visit: panoramas.pitt.edu
Every year, around 500,000 refugees and asylum-seekers flee from El Salvador, Guatemala, and Honduras. These three countries comprise a region known as the Northern Triangle of Central America, which is plagued with socio-economic instability, poverty, corruption, and chronic violence. Today, there are misconceptions and limited views regarding the causes of the humanitarian crisis in the region. These should be re-assessed by analyzing the root causes that sparked new incentives for migration, which are crucial to understanding the many interrelated factors affecting the Northern Triangle and its people.
Isabel Morales is an international student from Colombia at the University of Pittsburgh. She is currently a sophomore majoring in Economics with a minor in French and a Certificate in Latin American Studies. Through her experiences living in Colombia, the United States, and Israel, along with the opportunities offered by the university, she has become greatly interested in Latin American affairs and its role in the study of development economics. As a Panoramas intern, Isabel hopes to promote the region and continue exploring areas of interest such as politics, development, and human rights.
Registration required: https://tinyurl.com/1vc6cqvj
UCIS Unit:
Center for Latin American Studies
Is Event Already in University Calendar?: