Current Pop-Up Course:
Human Rights: Cities
Cities are terrains of social and political contestation. It is projected that 70% of the world's population will live in cities by 2050, and cities are major engines of both economic growth and socio-economic inequality. They are central nodes in networks of translocal and transnational migration, including immigration, gentrification, and trafficking; they are at the forefront of efforts to adapt to anthropogenic climate change and address environmental injustices; they are, increasingly, arenas in which people mobilize to demand human rights to food, water, health, housing, education, and more. In this one-credit pop-up course, students will study cities around the world as sites where contemporary struggles for social justice and human dignity unfold.
This pop-up course will occur every Thursday from 4:30-5:45pm and is a drop-in program. No registration required.
If you plan to attend all sessions of the course and would like credit (1 credit) please enroll through PeopleSoft. The course number is PS 1556.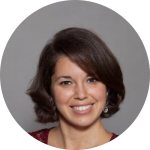 Trinity University, San Antonio, Texas
Originally from Lakewood, Colorado, Gina Anne Tam completed her Ph.D. in modern Chinese history at Stanford University in 2016, and received a B.A. in History and Asian Studies from the Indiana University of Pennsylvania in 2008. At the core of her research interests lies the interplay between identity-building, state-society relations, and the construction of knowledge. Her research has examined these themes in the history of modern China—from gender relations, to language policy, and food.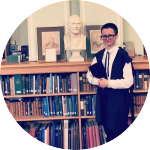 University of Pittsburgh Center Russian, East European & Eurasian Studies
Irina is a historian of early modern and Soviet Russia with a particular interest in social history and history of sexuality. In her book manuscript, Vernacular Queer and Shifting Power in Russia: from the Late Imperial Era up to the 1940s, she explores homosexual emancipation in Russia before and after the Revolution of 1917. The focus on emancipation is a novel approach in the historiography of homosexuality in Russia, which so far has concentrated on scientific discourses, experts' knowledge, and the history of prosecution of homosexuals. Based on previously unknown archival evidence, she analyzes the consequences of the spread of literacy, medical knowledge, and law changes in the context of the evolution of same-sex desire. Looking at the process from the perspective of non-elite homosexuals, Irina reveals how their same-sex desire was developed, conceptualized, and expressed after the Bolshevik Revolution. The sources Irina discovered on queer emancipation "from below" served as the plot for the chamber opera DIE EINFACHEN, staged in Stuttgart and premiered in August 2021 (coverage appeared in the Frankfurter Allgemeine Zeitung). She has published extensively on the history of homosexuality in Russia in the edited volumes and peer-review journals, including Ab Imperio and Kritika: Explorations in Russian and Eurasian History. Irina is also interested in such topic as intimacy in GULAG, HIV/AIDS in the USSR. Apart from working in the archives and writing, she enjoys watching European football, listening to opera and playing violin.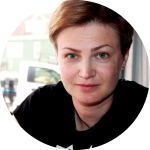 Moscow Community Center for LGBTG Initiatives
Olga Baranova is a Russian human rights activist. She was the Senior Director of the Moscow Community Centre for LGBTIQ Initiatives. Now based in New York, she has written the report "Undermining human Rights at the United Nations: The Case of Russia" for OutRight Action International, and works with the Russian language radio station Freedom FM.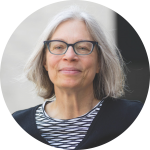 Northeastern University School of Law
Professor Davis teaches Constitutional Law, US Human Rights Advocacy and Professional Responsibility. She is a faculty director for the law school's Program on Human Rights and the Global Economy and the NuLawLab. In 2015-2016, she held the Fulbright Distinguished Chair in Human Rights and Humanitarian Law at the Raoul Wallenberg Institute (RWI), Lund University, in Lund, Sweden. She continued her work with RWI in 2017-2018, when she received a Fulbright Specialist Award, and she is now an affiliated scholar of the institute. She is also a member of the expert committee of Human Right 2 Water, a Geneva-based development organization that advocates for water and human rights. Professor Davis has written widely on human rights, women's rights, and social justice issues. Most recently, she co-edited Global Urban Justice: The Rise of Human Rights Cities (Cambridge, 2016), the first book-length scholarly treatment of the human rights cities movement. In addition to serving as an editor, Professor Davis contributed a chapter, "Cities, Human Rights and Accountability: The United States Experience." She is co-author of the first law school textbook focused on domestic human rights: Human Rights Advocacy in the United States (West, 2014), and she co-edited Bringing Human Rights Home, a three-volume work chronicling the US human rights movement.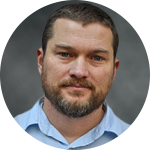 Department of Geography and Environment, University of Hawai'i at Manoa
Reece Jones is a 2021 Guggenheim Fellow and the author of the award-winning books Violent Borders and Border Walls. He is the Editor-in-Chief of the journal Geopolitics and also edits the Routledge Geopolitics Book Series with Klaus Dodds. His next book, White Borders: The History of Race and Immigration in the United States from Chinese Exclusion to the Border Wall, focuses on the racial exclusion inherent in American immigration laws, tracing between the Chinese exclusion laws of the 1880s to the Trump border wall policies.
No registration required.
If you plan to attend all sessions of the course and would like credit (1 credit) please enroll through PeopleSoft. The course number is PS 1556.
Zoom Information:
Topic: 2221 HIST 1801 SEC1095 GLOBAL STUDIES CAPSTONE
Time: Sep 22, 2021 04:30 PM Eastern Time (US and Canada)
Every week on Wed, until Dec 8, 2021, 12 occurrence(s)
Sep 22, 2021 04:30 PM
Sep 29, 2021 04:30 PM
Oct 6, 2021 04:30 PM
Oct 13, 2021 04:30 PM
Oct 20, 2021 04:30 PM
Oct 27, 2021 04:30 PM
Nov 3, 2021 04:30 PM
Nov 10, 2021 04:30 PM
Nov 17, 2021 04:30 PM
Nov 24, 2021 04:30 PM
Dec 1, 2021 04:30 PM
Dec 8, 2021 04:30 PM
Please download and import the following iCalendar (.ics) files to your calendar system.
Join Zoom Meeting
Meeting ID: 934 0968 0836
One tap mobile
+12678310333,,93409680836# US (Philadelphia)
8778535247,,93409680836# US Toll-free
Dial by your location
+1 267 831 0333 US (Philadelphia)
877 853 5247 US Toll-free
Meeting ID: 934 0968 0836
Join by SIP
Join by H.323
162.255.37.11 (US West)
162.255.36.11 (US East)
115.114.131.7 (India Mumbai)
115.114.115.7 (India Hyderabad)
213.19.144.110 (Amsterdam Netherlands)
213.244.140.110 (Germany)
103.122.166.55 (Australia Sydney)
103.122.167.55 (Australia Melbourne)
149.137.40.110 (Singapore)
64.211.144.160 (Brazil)
149.137.68.253 (Mexico)
69.174.57.160 (Canada Toronto)
65.39.152.160 (Canada Vancouver)
207.226.132.110 (Japan Tokyo)
149.137.24.110 (Japan Osaka)
Meeting ID: 934 0968 0836
Class times: Thursdays from 4:30PM to 5:45PM on Zoom (link under Registration tab)
Week 1: September 2
Introduction: Global Studies
Week 2: September 9
"Cities, City-Networks, and the Reception of Migrants: Focus on the EU"
Week 3: September 16
No Classes
Week 4: September 23
No programming – students meet with instructor
Week 5: September 30
"Protest as a Human Right in Hong Kong: A view from history"
In the summer of 2019, Hong Kong-- former British colony, current special administrative region of the People's Republic of China-- was swept up by a large, sustained protest movement. The spark that lit this "revolution of our time" as protestors have deemed it was an extradition treaty with China, but quickly evolved into a broader movement for a more democratically representative government and autonomy from the People's Republic of China. In a stunning backlash against the movement, the PRC government announced they would unilaterally enact a sweeping national security law, quickly marking much of the previous year's protest movement illegal. In the past year, activists, lawyers, elected officials have been arrested and NGOs and media outlets shuttered at a dizzying pace, fundamentally altering the civic, legal, and cultural landscape of the city. Drawing upon Hong Kong's long history of grassroots activism-- and backlash against it-- from the early twentieth century through the present, this talk will offer a historical view of how protest became a cherished human right and a locus of popular power in Hong Kong, using this history to discuss the implications of the national security law on human rights in the city today.
Week 6: October 7
Discussion and Reflection
Week 7: October 14
No programming – students meet with instructor
Week 8: October 21
White Borders with the Global Studies Center and the Urban Studies Center at Pitt, Department of History, Carnegie Mellon
Week 9: October 28
Week 10: November 4
"Global Urban Justice: The Rise of Human Rights Cities"
Week 11: November 11
Week 12: November 18
"Cycling and the City: Human Rights and Human Infrastructure"
Watching documentary "Together We Cycle" or "Why We Cycle" about the history of cycling in the Netherlands and "Mama Agatha" about a Ghanian immigrant who teaches migrant women to cycle in south Amsterdam
Week 13: December 2
No programming – students meet with instructor
Week 14: December 9
No programming – students meet with instructor
Sponsored by: University of Pittsburgh's Global Studies Center
University of Pittsburgh Global Studies Center