NCTA Michigan State University Summer 2023
Teaching East Asia Foundational Summer Seminar: Art & Literature
A Foundational Seminar for K-12 Educators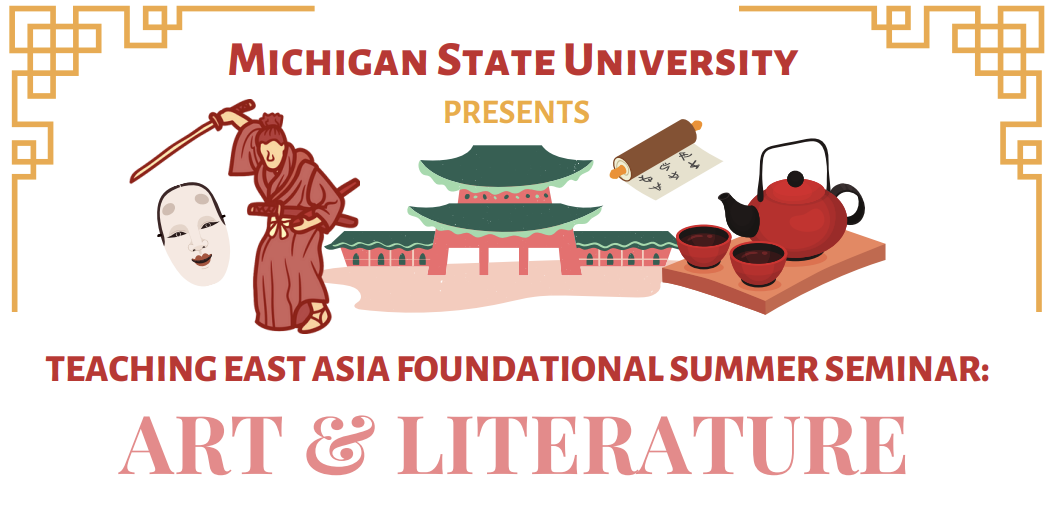 Click on the Image above to see the Informational Flyer
Open to educators from Alabama, Delaware, Illinois, Kentucky, Louisiana, Maryland, Michigan, Minnesota, Ohio, Pennsylvania, and West Virginia.
Apply now for the NCTA East Asian survey at Michigan State University this summer! The course will cover aspects of Chinese, Japanese, and Korean art, literature and history, with East Asia-specific content and historical background as well as hands-on art projects, analysis of literary works, classroom applications and recommended resources. Limited funding is available to support lodging for participants who live more than 30 miles away from the MSU campus. Free teaching materials, most lunches, and optional 30 SCECH hours (pending approval) included. 
Seminar Dates: 
Orientation: June 13, 2023 6:00pm-8:30pm Eastern Daylight Time

In Person Session: August 7 - 11, 2023 (Monday - Friday)

Follow Up Session (Date to be Determined)
Seminar Times: 9:00 a.m. - 3:30 p.m. Eastern Daylight Time (Lunch Included Most Days)
Seminar Location: Michigan State University campus, East Lansing, Michigan 
Seminar Leader: Dr. Ethan Segal & Dr. Jiahang Li
2023 Seminar Benefits: 
In addition to the knowledge you will gain about East Asia, eligible teachers will also receive the following benefits upon completion of the program requirements:
$250 worth of teaching materials, including textbook and one-year subscription to Education about Asia journal ($150 worth at August seminar, $100 worth of materials after completion of seminar requirements)

$300 stipend upon completion of all coursework (summer seminar, lesson plan, philosophical essay, follow up event in Fall 2023)

Access to nationwide NCTA programs, such as eligibility for discounted study tours of East Asia, online book clubs, summer institute opportunities, and teaching resources

Questions?
Please Contact the Seminar Leaders at jiahang@msu.edu or segale@msu.edu