Events
The following events draw interdisciplinary audiences and help forge networks relating to our center's six concentrations: Changing Identities in a Global World; Communication, Technology and Society; Conflict and Conflict Resolution; Global Health; Global Economy and Global Governance; and Sustainable Development.
Friday, May 6 to Saturday, May 7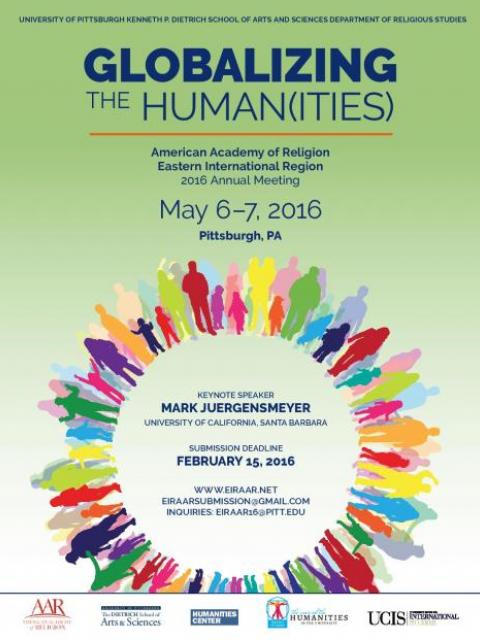 Presenter:
Mark Juergensmeyer
Location:
University of Pittsburgh
Sponsored by:
Global Studies Center
along with
Department of Religious Studies and American Academy of Religion
Contact Email:
EIRAAR16@PITT.EDU
American Academy of Religion Eastern International Region's Annual Meeting.
Submissions due by February 15, 2016.
Saturday, May 21
Reacting to the Past Workshop: An Interdisciplinary Classroom Simulation
Presenter:
Dr. David Henderson and Dr. Susan Henderson with Reacting to the Past
Location:
4130 Posvar Hall
Sponsored by:
European Studies Center, Jean Monnet European Union Center of Excellence and Global Studies Center
along with
Reacting to the Past - Barnard College
Contact Phone:
412-624-3503
Contact Email:
kma69@pitt.edu
Participate in a classroom simulation that relives negotiations on air pollution and acid rain among European nations between 1979-1989.
The international simulation "Acid Rain in the European Environment" incorporates social studies, chemistry, and English content. Students engage in analyzing primary source documents as well as scientific data and graphs.
As a participant in this workshop, you'll learn about the science behind acid rain while understanding the historical context of the negotiations to take back to your classroom. Social studies, science, math and language arts teachers are strongly encouraged to register!
Workshop details:
-Breakfast and lunch will be served
-Parking will be provided
-Teachers will earn Act 48 hours
-Participants will be free classroom resources and materials
Please visit http://tinyurl.com/RTTPworkshop to register now!