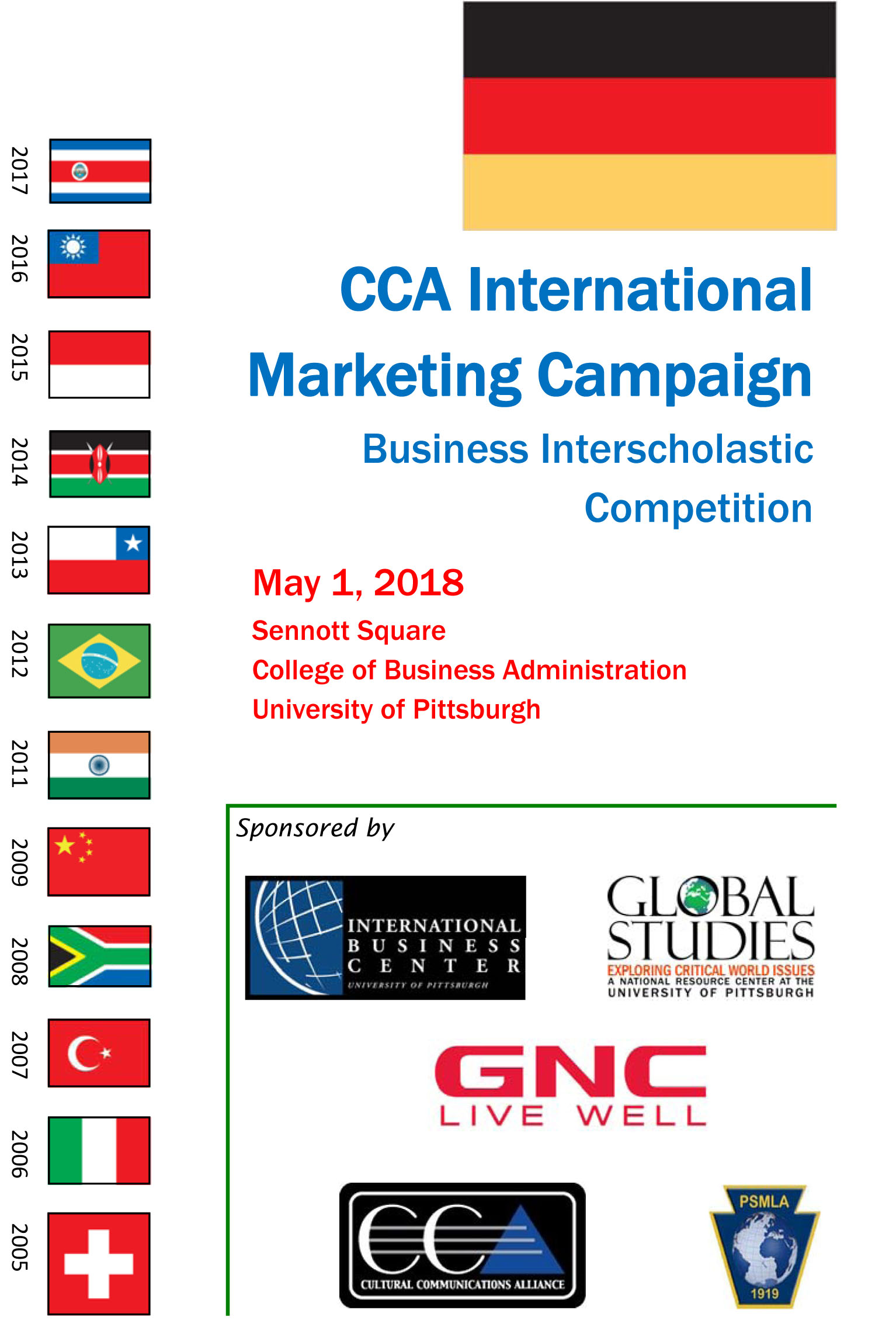 Date:
Tuesday, May 1, 2018

4:30 pm

to

9:00 pm
Location:
Sennott Square, 2nd Floor, College of Business Administration
The IBC and the Global Studies Center work with high school language and social science teachers to introduce international business concepts through this program, which culminates in a competition at Pitt in spring. On May 1, 2018 eight student teams will present their marketing strategies in a 12-minute presentation, followed by Q&A with the judges.
This program involves about 60 students and includes support from the Cultural Communications Alliance (CCA), an organization of teachers, corporate sponsors and Pitt affiliates. Each year the program focuses on a country and a product. In 2018, the focus country is Germany and the product is GNC TriFLEXTM .  The student teams have the opportunity to participate in various activities prior to the final event. In January, students had the opportunity to watch the IBC video on Doing Business in Germany, which was then followed by an audio-call in for Q&A with the presenter. In February, students participated in a virtual field trip with a Katz professor who presented on Marketing in the 21st Century and a Pitt history professor who presented on Contemporary Germany. During this interactive event, students were able to ask questions. All of these events were recorded and are available on the CCA website. 
High school language, social science, and other educators who work with students that are enrolled in a language class are welcome to attend the final competition on May 1st  and are welcome to contact Lisa Bromberg or Jacqueline Saslawski at any time to learn more about the CCA International Marketing Competition events.