Events
Upcoming Events
Tuesday, November 28
UCIS International Career Toolkit Site Visit: WholeRen
Sponsored by:
African Studies Program, Asian Studies Center, Center for Latin American Studies, Center for Russian and East European Studies, European Studies Center and Global Studies Center
Contact Email:
jdgarceau@pitt.edu
Pittsburgh is exploding as an education destination with students from across the globe! Join UCIS and the Asian Studies Center on this month's site visit to WholeRen to learn about their work on integrating and promoting Chinese-American educational opportunities and potential ways that you can get involved.
WholeRen, headquartered in Pittsburgh, was founded by Chinese and American professional educators in 2010 to create and promote cross cultural educational opportunities. WholeRen integrates a range of educational services geared towards assisting international students succeed in Pittsburgh including high school and college academic application consulting, college transfer services, skills training workshops, on-going academic counseling, immersion classrooms, and Chinese-American cultural exchanges, and executive education.
Sign up here: https://goo.gl/forms/bvt2C8FKIkD2wZk93 Space is limited to 10 students so sign up early! Preference is given to Junior and Senior students. You must finalize your registration with a refundable $10 cash deposit to Elaine Linn in the Global Studies Center (Posvar 4100).
Thursday, November 30
Populist Discourse and Civic Culture
Insights from Latin America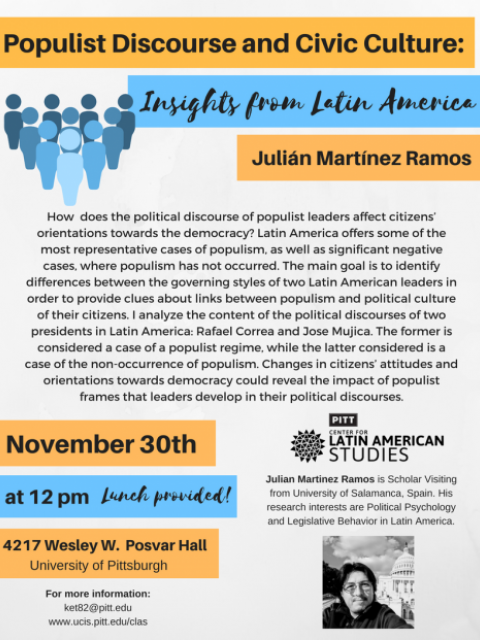 Presenter:
Julian Martinez Ramos
Location:
4217 Wesley Posvar Hall
Sponsored by:
Center for Latin American Studies
Contact Email:
ket82@pitt.edu
How does the political discourse of populist leaders affect citizens' orientations towards the democracy? Latin America offers some of the most representative cases of populism, as well as significant negative cases, where populism has not occurred. The main goal is to identify differences between the governing styles of two Latin American leaders in order to provide clues about links between populism and political culture of their citizens. I analyze the content of the political discourses of two presidents in Latin America: Rafael Correa and Jose Mujica. The former is considered a case of a populist regime, while the latter considered is a case of the non-occurrence of populism. Changes in citizens' attitudes and orientations towards democracy could reveal the impact of populist frames that leaders develop in their political discourses.
Monday, June 25 to Friday, June 29
2018 Summer Institute for Pennsylvania Teachers
Sponsored by:
Asian Studies Center, Center for Latin American Studies, Center for Russian and East European Studies, European Studies Center, Global Studies Center and International Business Center
Contact Phone:
4176487423
Contact Email:
zsuzsannamagdo@pitt.edu
Make college more affordable for your high school students—and help them grow as global citizens and 21st century professional—while earning ACT 48 professional development credits.
The College in High School program and the University Center for International Studies will host a summer institute for secondary educators interested in teaching globally focused courses that offer transferable college credit to students at their high school. Courses in which you can obtain certification and training may include:
Intermediate French I-II
Intermediate German I-II
Intermediate Spanish I-II
Intro to Global Studies
Latin Intermediate Prose and Verse
Western Civilization II
World History
World Politics
Imperial Russia
Courses will be aligned with Pennsylvania Core and Academic Standards (for social studies) or ACTFL performance standards (for world languages).
The 2018 Summer Institute for Pennsylvania Teachers is funded through generous support from the Longview Foundation for Education in World Affairs and International Understanding (https://longviewfdn.org/).
For more information and to apply, visit chs.pitt.edu/sipt.