Asha Williams
Asha Williams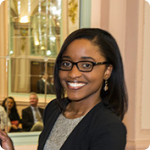 Asha Williams is recognized with the Sheth International Young Alumni Achievement award for her social protection and social development work, primarily in the eastern Caribbean's small island states. During the last eight years, her work and research has focused on social protection, social guarantees, active labor market interventions and monitoring, and education and poverty policies and assessments.
"Asha Williams is a young professional who has used her Pitt education to make the world a better place," says Jagdish N. Sheth. "She was a star while a student at Pitt and she has shown herself to be a star in her work at the World Bank and OAS. Asha is a shining example of how Pitt alums contribute back to society."
Wiliams graduated from the University of Pittsburgh in 2007 with a Master of International Development from the Graduate School of Public and International Affairs, and with a Graduate Certificate in Latin American Studies from the Center for Latin American Studies. She holds a BSc in Government from the University of the West Indies' Department of Behavioral Sciences, in Trinidad and Tobago.