Carmelo Mesa-Lago
Carmelo Mesa-Lago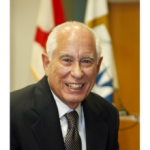 Professor Carmelo Mesa-Lago is the Distinguished Service Professor Emeritus of Economics and Latin American Studies at the University of Pittsburgh, a visiting professor, researcher and/or lecturer in 40 countries, and the author of 94 books and 318 academic articles published in 8 languages in 34 countries. He is a Past President of the Latin American Studies Association, member of the National Academy of Social Insurance and of editorial boards of six academic journals. Professor Mesa-Lago was awarded in 2007 the International Labor Organization Prize on Decent Work shared with Nelson Mandela and in 1991 the Alexander von Humboldt Senior Research Prize on Social Security.
The University of Pittsburgh is pleased to award Professor Mesa-Lago one of two 2020 Sheth Distinguished Faculty Awards for International Achievement in recognition of his influential work across the globe and strengthening of Pitt's profile both at home and abroad.
Biography
Known as "the Master of Social Security in Latin America" and "the Dean of Cuban Studies," Dr. Mesa-Lago's scholarship on social security, Cuba's economy and comparative economic systems is internationally recognized for the breadth and innovation of his publications; he is the founder of the journal Cuban Studies and was its editor for 20 years. He has taught on his subjects of expertise at numerous universities and spent nearly 60 years training doctoral students on those subjects.
Dr. Mesa-Lago earned his Ph.D. in Labor Economics and Social Security from Cornell University ('68), M.A. in Economics from University of Miami (Florida) ('65), LL.D. in Social Security from University of Madrid ('58), and LL.M in Civil Law from University of Havana ('56).
Dr. Mesa-Lago served as director of the prestigious Center for Latin American Studies (CLAS) at the University of Pittsburgh and remains an active and important participant and valued contributor to the intellectual activities at the University of Pittsburgh. He has served as advisor, instructor, and mentor to generations of Pitt students, shaping the CLAS while being involved in it since 1967 and directing it for more than a decade. Dr. Mesa-Lago has achieved international prominence as a social sciences scholar, professor, and mentor. He has conducted pioneering work in the social sciences and
public policy. His studies on pension and health care reform produced influential recommendations to amend current problems and improve such systems and their beneficiaries. These studies also addressed gender inequality as well as the impact of global economic crises on social security, advancing policy suggestions to counteract their adverse consequences and strengthen the financial sustainability of social protection systems.
Dr. Mesa-Lago continues to make invited presentations related to his fields of expertise, participates in events sponsored by the Center for Latin American Studies and the University Center for International Studies, and is regularly involved with University faculty and students, in addition to his continued extensive efforts in the publication of relevant research.
Meet Dr. Carmelo Mesa-Lago.