Fatima Waziri-Azi
Fatima Waziri-Azi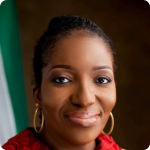 Since graduating from the University of Pittsburgh's School of Law, Dr. Fatima Waziri-Azi's work in her home country of Nigeria has been dedicated to safeguarding the human rights of the marginalized, especially women and girls, and advocating for disadvantaged urban poor and rural communities in Nigeria by undertaking sustainable institutional reforms focused on people-centered access to justice.
In the 11 years following her graduation, Dr. Waziri-Azi has progressed from a research fellow to an Associate Professor of Law and former Head of the Department Public Law at the Nigerian Institute for Advanced Legal Studies; there, she had the opportunity to educate and mentor young academics; train legal practitioners, prosecutors, judges, and law enforcement officers in diverse areas of law; and contribute to legal jurisprudence through her research.
While serving as Rule of Law Advisor to the President in the Office of the Vice President of the Federal Republic of Nigeria for 3 years, Dr. Waziri-Azi was able to inform policy on anticorruption, criminal justice sector reform, police reform, sexual and gender-based violence, and climate change issues through legal opinions, background papers, reports, and talking points on national and international issues. Her achievements in the role include development of the Referral Guidelines for Gender-Based Violence Response in Nigeria; initiation of the approval of a toll-free line and short code for the FCT Sexual and Gender-Based Violence Response Team; conduction of a mapping assessment on existing structures in the management of relations between farmers and pastoralists in Nigeria; and development of a National Guide for the Establishment and Management of Sexual Assault Referral Centres. Dr. Waziri-Azi is also a member of the Presidential Police Reform and Transformation Committee, responsible for upward review of Nigeria Police Force wages and allowances.
In September 2021, Dr. Waziri-Azi was appointed by the President of the Federal Republic of Nigeria to head The National Agency for the Prohibition of Trafficking in Person (NAPTIP) as Director General and Chief Executive Officer. NAPTIP is the foremost law enforcement agency in Africa dedicated to tackling issues of human trafficking and Dr. Waziri-Azi has been responsible for changing the narrative of Nigeria as an origin, transit, and destination country for human trafficking.
In 8 months, she has been able to facilitate the executive approval of three key policy documents that will guide human trafficking interventions in Nigeria and the diaspora; secured 18 convictions and counting; rescued 394 victims of human trafficking and counting for the year 2022; amplified the visibility of NAPTIP and its reporting channels, leading to an increase in reportage of cases of human trafficking and violence; enhanced partnership and regional cooperation with the signing of Bilateral Agreements and MOUs to prevent, suppress and punish trafficking in persons, especially women and children; and initiated the amendment of NAPTIP's Act to include current trends in human trafficking.
Meet Dr. Fatima Waziri-Azi.