Kakenya Ntaiya
Kakenya Ntaiya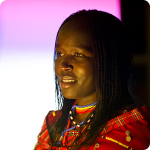 Making an impact on society is not something the average 14-year-old girl thinks about. Kakenya Ntaiya was never an average girl. Two decades on from her teen years, Kakenya Ntaiya, PhD, is the recipient of the Sheth International Young Alumni Achievement Award, presented by the University of Pittsburgh and the University Center for International Studies. She is recognized for her passionate advocacy for girls' education in her home country of Kenya. Dr. Ntaiya's award will be presented at a reception at the William Pitt Union on Thursday, November 14 held in conjunction with the University of Pittsburgh's International Week.
Attending high school is taken for granted in America. For Maasai girls in Kenya, their early teens signal the end of schooling. It is a time when the young Kakenya and her peers prepared for marriage, which included the practice of female circumcision. Having delayed this phase of her young life for as long as possible, at age 14 Kakenya negotiated with her father: she would not run away from home and would consent to the circumcision if he, in return, would allow her to finish high school.
"That daring decision to bargain with her father set her on an incredible journey that has taken her far beyond the realm of high school," said Dr. Jagdish Sheth, University of Pittsburgh alumnus who, with his wife Madhuri, promotes global thinking and international endeavors through the Sheth Family Foundation. "Kakenya Ntaiya has an amazing ability to dream big. She is a role model, she is determined, she is witty, and she figured out at a young age the give and take of a seasoned negotiator."
To turn her dreams into reality, Kakenya also negotiated with village elders to do what no girl had ever done: leave her Maasai village of Enoosaen and attend college in the United States. She received a scholarship to Randolph-Macon Women's College in Virginia—a feat made possible when the entire village collected money to pay for her airfare. Her education continued at the University of Pittsburgh where she received a Doctorate in Education in 2011.
Kakenya kept her promise to her village. She returned to establish, in 2009, a girls' primary boarding school (grades 4 – 8), known as the Kakenya Center for Excellence. She views education as a crucial tool for fighting the practices of female genital mutilation and child marriage. And she hopes that her Center will empower and motivate young girls to become change agents in their community and country.
As an undergraduate, Kakenya was the first youth advisor to the United Nations Population Fund, travelling the world advocating for girls' education. In 2013 she was honored with the Global Women's Right Award from the Feminist Majority Foundation, was recognized by Women in the World as a "Woman of Impact," and named a CNN Hero. Kakenya was honored with a Vital Voices Global Leadership award in 2008 and as a National Geographic Emerging Explorer in 2010. She was named as one of Newsweek's "150 Women Who Shake the World" in 2011, and was counted among the Women Deliver 100: The Most Inspiring People Delivering for Girls and Women.