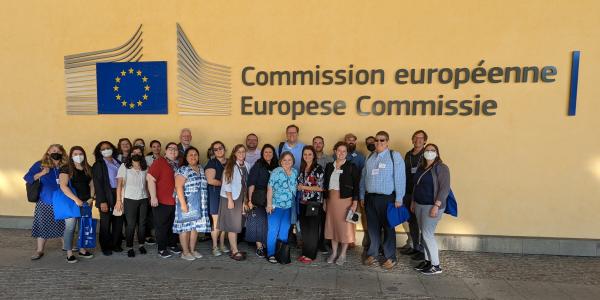 Each summer, the University of Pittsburgh's European Studies Center (ESC) plans a week-long study tour to Brussels, Belgium, for educators across the United States.
 
This long-running program gives educators from kindergarten to college level, selected through a competitive application process, an opportunity to learn more about the European Union firsthand. The 2022 cohort included educators representing the full "K-16" range and a variety of disciplines: social studies, world languages, science, math, special education, technical education, political science, library sciences, and more.
 
Samantha Moik, ESC Engagement Coordinator, said, "Because we accept such a diverse group of educators – from a broad range of grade levels and disciplines – it is exciting to see the different ways each educator chooses to work with the same information. Everyone pulls out a different piece that is salient to them and their students and puts their passion to work. It is incredibly inspiring to see the educators engage with the material and their colleagues as they go above and beyond to meet their students' educational needs."
 
The 2022 iteration of the Brussels-Lux Study Tour for Educators was the result of a collaboration between European studies centers at University of Pittsburgh, University of North Carolina at Chapel Hill, and Florida International University with contributions from partner institutions such as the University of Wisconsin-Madison. The program ran across three consecutive weeks in summer 2022 in order to accommodate cohorts whose travel was delayed due to the pandemic, so educators selected in 2020, 2021, and 2022 all traveled this year.
 
During the 2022 tour, the educator cohort visited several EU institutions, including the European Parliament, the European Union Council, the European Commission, and the European External Action Service (EEAS). The group even took a train from Brussels to visit the Court of Justice of the European Union in Luxembourg.
 
Educators who were part of the 2020, 2021, and 2022 cohorts certainly have a lot of new information to infuse into their curricula this fall—and hopefully, their knowledge will inspire future global scholars in classrooms across the country.
 
Those interested in being part of the next cohort can learn more and apply online or contact Samantha Moik at smm302@pitt.edu.