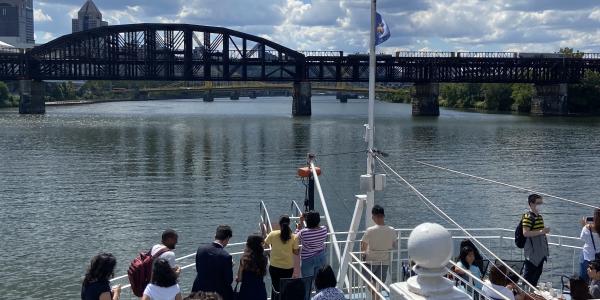 Nearly 200 international graduate students started their Pitt journeys with a Gateway Clipper river cruise on August 18.
Everyone met outside Soldiers and Sailors, arriving in small groups and trickling in individually as Office of International Services (OIS) staff rounded up stragglers. Quiet chatter and anticipation built as buses were boarded; there was plenty of neck craning to look up and out the windows at city scenery on the way there.
After a visit to the Point State Park Fountain, passengers embarked on the Queen, grabbing drinks, hors d'oeuvres, and a spot with a view for the tour. Students reflected on their first thoughts about Pittsburgh as they looked in on the city from a new perspective, unfolding around and above them from the river. Many saw the cruise as a cherry on top of their decision to choose Pitt, feeling welcomed into the city and the university community with open arms. Several swapped favorite places they'd already found to grab coffee or a midday snack; others shared tips for navigating the city, finding an apartment, or figuring out the bus with their peers. 
Kati Von Lehman, Assistant Director of Outreach and Assessment for OIS, said "Orientation is our favorite time of year because we love welcoming our students and their families to Pitt. One of our most important responsibilities is helping them understand the bigger picture of the community they are joining and allowing them to connect with other new students who will be their peers and support system throughout their studies."
Gradually, students found connections, even in unexpected places—a member of the same program was spotted with the help of handy nametags, a fellow fan of the band Blackpink was found, three engineers from different disciplines wound up at the same table. Students also had a chance to mingle with OIS staff, faculty members, and representatives from the office of the Vice Provost for Graduate Studies, who will be some of their greatest supporters and resources during their time as Pittsburghers. And throughout the trip, everyone snapped plenty of pictures, of course, ready to share their journey in the steel city with friends and family back home.
Akira Pinto Medeiros, an incoming political science PhD student, said, "Travelling around all Pittsburgh's rivers brings a different perspective of this charming and welcoming city. Viewing the tall buildings from the downtown area alongside many factories that do not produce what they used to produce in the past, gives us a hint of how vibrant and suitable to change Pittsburgh is. As I am just starting my PhD here, I am sure I will be changed by this city within the next five years."
As the riverboat's passengers beheld Pittsburgh from the outside, one could imagine that the people waving and cheering from bridges above were looking down on a microcosm of the city—a vibrant community full of people from across the globe, bringing diverse backgrounds and expertise together to create something more in conversation with each other. 
Anupama Sudheer, a first-year graduate student in the Professional MS in Bioengineering, said, "My favorite part of the cruise was being able to meet so many fellow graduate students. This event post-pandemic provided an incredible opportunity for the incoming students to connect while witnessing the beauty that is Pittsburgh. Pittsburgh has been really welcoming, I've had such a great time going around the city and exploring the place. Although classes haven't begun I'm affirmative that Pitt will be an exceptional environment for my higher education."
Finally, the tour concluded, and just as our three rivers converge, students who entered the cruise as strangers emerged with new friends, colleagues, and connections in the city they'll call home for the next several years.