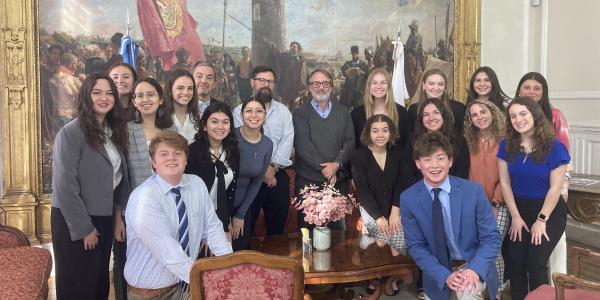 When you think of global experiences, your mind might immediately turn to study abroad—a traditional trip where a student, perhaps a junior or senior, spends a semester expanding their horizons in another country. 
 
Pitt's Plus3 program is turning that idea on its head.
 
Plus3 is intended specifically for students who have just finished their first year of college. This two-week, three-credit interdisciplinary experience is a partnership between the Swanson School of Engineering, Pitt Business, the School of Nursing, the University of Pittsburgh at Johnstown's Division of Business and Enterprise, the School of Education, and Pitt Greensburg. First year students within these schools and departments may travel to one of eight countries and will be given a firsthand glimpse of globalization through industry-specific company tours, Q&A sessions with executives, and academic lectures that provide cultural and political perspective.
 
Many of these students have also not had the opportunity to travel outside the United States, and Plus3 gives them that chance.
 
One recent Plus3 destination was Argentina, which played host to a group of business and nursing students in May 2023. The trip allowed students to learn more about healthcare and the business of hospitals while experiencing Argentina's culture and attending lectures and presentations on the side.
 
Nursing student Makayla Dixon said, "I learned much during my short trip to Argentina, especially about their healthcare system. As a nursing student, I enjoyed visiting hospitals and clinics and talking to doctors and nurses about their work. I even witnessed a live heart surgery at a private cardiovascular clinic, which was a fantastic experience."
 
Many Plus3 students are also taking part in their first major trip outside the United States.
 
Salma Xolo-Thomas said, "One thing that was huge for me for this trip was that I'd never traveled abroad before my time in Argentina with Pitt Business Plus3. This was a big reason why I chose this program because experienced advisors would guide me through this journey and be with a group of peers my age."
 
Plus3 gave students a good look at life across Argentina and the differences and disparities across the healthcare system. Nursing student Adriana Rivera said, "We spent one day in an area called Tigre and that was great. The area is surrounded by water and composed of some islands—it's kind of off the mainland. We actually got there by boat and it was really cool to see how they navigate. They have boat ambulances. They have to keep in mind when there's flooding or less water and supply deliveries are extremely important, because it's really hard for people to go out and get those supplies."
 
Students are mentored throughout the trip by faculty leaders. Grant Martsolf, professor and UPMC Health Systems Chair in Nursing Science, is particularly passionate about leading business and nursing students through Plus3 Argentina. Martsolf said, "Argentina is a middle income country, and the very interesting thing about middle income countries is you get the full range of experiences. In Buenos Aires, you have some of the best hospitals in the world, but when you get outside of the city, you can encounter poverty that rivals very low income countries. Students get a very real sense of how to deliver healthcare in a high-performing system or use the resources available in low-income areas to care for the most vulnerable."
 
Experiencing Argentina allowed Plus3 students to grow, not only professionally, but personally, as well.
 
Benjamin Willenbecher, who is studying business, said, "Going on a trip where I didn't know anyone was a little intimidating at first, but I ended up leaving with some amazing new friends that I know I'll have for a long time. This trip taught me how to step out of my comfort zone, and I learned how to be confident in myself. Confidence is also something I've always lacked, but after seeing how easily I made friends with great people I've become much more comfortable with just being myself."
 
Nursing student Alexa McPike said, "Being Latina, I was so excited to be able to speak Spanish with the locals and feel more connected to my roots. It was also enriching to eat the local food, listen to traditional music, and just take time on my own to walk around the city and do things by myself that the locals would do. In two weeks, I learned so much about the country, built some amazing friendships, and learned more about myself. This was an opportunity I will never forget and would recommend to anyone and everyone."
 
The Argentina program—as well as other Plus3 offerings—are open to first-year students who are part of Swanson School of Engineering, Pitt Business, the School of Nursing, the University of Pittsburgh at Johnstown's Division of Business and Enterprise, the School of Education, and Pitt Greensburg. Those interested in being part of Plus3 can learn more online or reach out to globalexperiences@pitt.edu.