Ian McLaughlin
Ian McLaughlin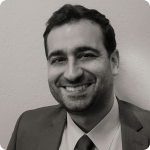 Global Operations Support Manager and Concierge
ian.mclaughlin@pitt.edu
412-624-0125708 William Pitt Union
As the University of Pittsburgh's global operations support manager or "global concierge," Ian McLaughlin is the first point of contact Pitt faculty and staff who have inquiries related to international engagement. McLaughlin consults on travel safety and benefits, the process of initiating academic agreements or hosting delegation visits, international business operations, remote work abroad, and international vendor services.
McLaughlin joined Pitt in 2016, when he became the University Center for International Studies' inaugural global operations support manager. Prior to serving Pitt, McLaughlin worked for 10 years in the University of Maryland's Global Campus Europe headquarters in southern Germany, where he held a variety of international program support roles. 
McLaughlin holds an MPA in Public Administration Management from Bowie State University and a BS in international business from Grove City College.
More information about Pitt's global operations support is available on the Global Operations Support website.