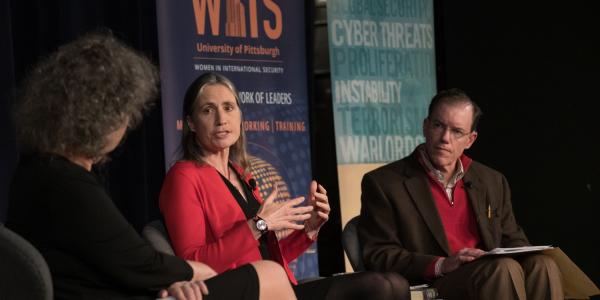 On November 2, 2022, Dr. Fiona Hill joined the Center for Russian, East European, and Eurasian Studies (REEES) and the Matthew B. Ridgway Center for International Security Studies to discuss her experience in the Trump administration, her recent memoir, and Putin's authoritarian vision for Russia. 
Though Dr. Hill hails from the United Kingdom, she has had an extensive career in the United States, serving as Senior Director for European and Russian Affairs and the National Security Council while working under three presidents. She is currently a Senior Fellow at the Brookings Institution and has recently released her memoir, titled There is Nothing for You Here: Finding Opportunity in the Twenty-First Century. 
Dr. Hill drew on her experience and expertise to answer a range of engaging questions from the community. Prof. Nancy Condee, Director of REEES, introduced Dr. Hill and co-moderated the discussion with Prof. Michael Kenney, Posvar Chair in International Security Studies and Director of the Matthew B. Ridgway Center. 
Prof. Condee remarked, "The insight and precision of Dr. Hill's analysis are qualities I have long admired about her writing. While there are many 'Russia pundits,' there are very few reliable Russian experts. Fiona Hill is the leading Russian expert, and we are delighted that she agreed to accept the invitation from REEES and Ridgway." 
Dr. Hill addressed a number of topics, including Russian society's reaction to the war in Ukraine, Vladimir Putin's weaponization of history, and Putin's nuclear saber rattling. She compared Putin's leadership style with former President Donald Trump, placing them in the same category of autocratic leaders as China's Xi Jinping, India's Narendra Modi, and Turkey's Recep Tayyip Erdogan. Drawing on her experience in the Trump administration, Dr. Hill noted that the former president admired Putin's "strongman" style of leadership. In addition to her public talk, she visited several Pitt classes and led a student focus-group discussion on creating economic opportunities in American communities. 
Michael Kenney was thrilled with Dr. Hill's visit. "Fiona was incredibly generous with her time and expertise," he said. "She interacted with hundreds of members of our community. I was deeply impressed by her knowledge and her ability to engage small groups and large audiences equally effectively." 
Dr. Hill's conversation was the inaugural event in an annual series hosted by REEES and the Ridgway Center featuring high profile scholar-practitioners who have had an important impact on recent world events. The full event is available to watch on-demand now.
Photo by Don Orkoskey, WDO Photography LLC