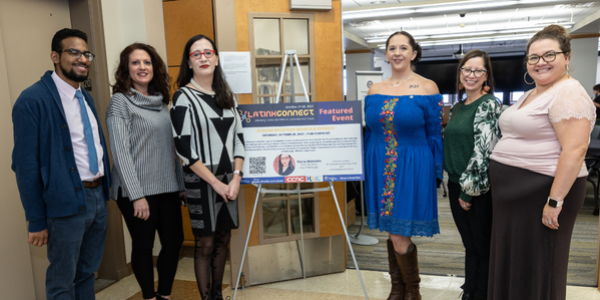 Latinx Connect, hosted as a hybrid event from October 27 to 29, 2022, brought the University of Pittsburgh's Latinx community together with Latinx speakers, leaders, students, educators, and allies worldwide. The conference was organized and sponsored by a grassroots transdisciplinary and cross-institutional group of educators and community leaders based in Pittsburgh. Their goal was not just to celebrate their community, but to empower and call for justice for those at the intersections of Latinx identity, such as Afro-Latinxs, Indigenous Latinxs, queer and Trans* Latinxs, and undocumented Latinxs.
Sessions spread over three days addressed healthcare, higher education, storytelling, community, funding, and identity for Latinx groups. The second day even included a screening of the documentary ÉLEFAN, focused on London's Latinx community, and filmmaker discussion.
Pitt was represented well by Dr. Luis Perez Cortes, Angie Cruz, Brigette Bethea, Dr. Patricia Documet, Dr. Loretta Fernandez, Ana T. Flores, Dr. Gina Garcia, Dr. Zuly Inirio, Dr. Diana Leyva, Dr. Clyde Pickett, Dr. Michele Reid-Vazquez, Brent Rondon, Dr. Sharon Ross, Julia Santucci, Dr. Belkys Torres, and LaMonica Wiggins.
Many sessions were particularly relevant for those working in higher education, and shared strategies to support Latinx students, be true mentors and advisors, and foster collaboration in order to fund and advance Afrolatinidad-focused research.
Dr. Belkys Torres, Executive Director of Global Engagement, helped to open and close the conference and said, "It has been an inspiring, joyful and even challenging few days as presenters have really pushed us to move beyond celebrating the achievements of Latinx/Hispanic communities across the US and underscored the incredible need for more cross-collaborations and coalition-building that allow for insightful dialogues that lead to real change for our people. This conference showcased our diversity of perspectives, lived experiences and professional contributions in a space that was intentionally curated to bring academics, administrators, practitioners, advocates and allies in conversation—and sometimes in tension—with one another."
The event ended with a brunch keynote by Maria Montaño, the first openly transgender woman to serve as Press Secretary for the City of Pittsburgh. Montaño's remarks were poignantly addressed her journey as a transgender Latina, struggle to find her way, and the transformative power of community and kindness. As Montaño concluded, she said, "Life is a struggle and it's a challenge, but it's within those problems that we can find promise. It's within those challenges that we can find hope."
Latinx Connect certainly left the Pittsburgh Latinx community and allies with a lot to think about and hope for until they all come together again.