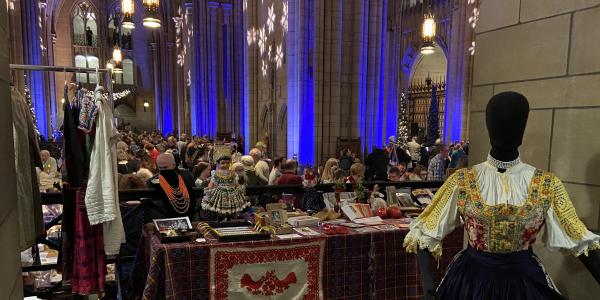 On a chilly December Sunday, the Cathedral of Learning was packed with light and warmth. Pittsburghers of all ages packed the hallways and spilled out of all 31 Nationality Rooms for four hours of festive fun celebrating holidays around the world.
 
This year's was the 31st holiday open house, the first in-person incarnation in two years. While the 29th and 30th open houses were an exercise in adaptation, held in a virtual format with creativity from members of the Nationality and Heritage Room Committees and Quo Vadis guides, everyone was excited for a physical return to the rooms.
 
Kati Csoman, director of the Nationality Rooms and Intercultural Exchange Programs, said, "The communities who were able to raise funds to build the Nationality and Heritage Rooms and commemorate their cultures demonstrate the tremendous resiliency of those people who left their homelands to settle in the Pittsburgh region. The Nationality and Heritage Room committees create a living testament with their ongoing support of intercultural learning through programs and festivals like the holiday open house. Being back in person together this year is special to commemorate tradition and heritage following our collective experience of navigating a global pandemic."
 
Nationality and Heritage Room Committee members stood ready to share cultural traditions, food, baked goods, and information about their rooms with the visitors. Many rooms offered a short tour or an informational video to educate their visitors; some, like the Japanese, Polish, and Russian rooms, let visitors learn more about regional handicrafts. Quo Vadis members were also stationed around the Cathedral, an integral part of the day, continuing a long tradition of involvement with open houses that started as a club event.
 
The heart of the Cathedral was transformed into a holiday market featuring live music from Lithuania, Scandinavia, China, Germany, Romania, and India. Visitors browsed global handicrafts and a selection of foods, from samosas to pierogies, while weaving through displays of traditional festive dress. The day also included a visit from Frozen's Anna and Elsa, courtesy of the Imagination Project, and live demonstrations by the Pittsburgh Lace Group.
 
After an afternoon of good cheer, the mood was set for the holiday season and a wonderful year of more celebration to come.