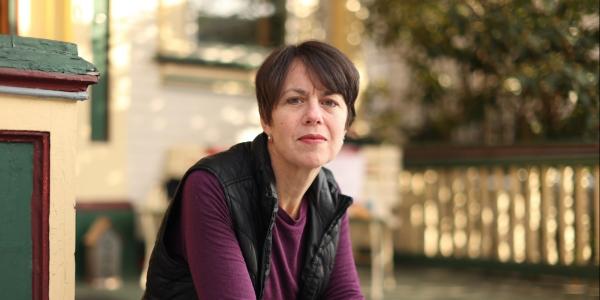 Lara Putnam isn't a stranger to PittGlobal—she's been a UCIS research professor in the Department of History since 2012—but as of this July, she's stepping into a new role as Director of Global Studies. Learn more about Lara and the path that brought her to her new global role!
What brought you to Pitt? How did you end up in your current role? 
I began my career as a tenure-stream professor at the Universidad de Costa Rica in San José, Costa Rica. I wasn't planning to look for jobs in the US (in Costa Rica my kids had aunts and cousins next door, and lemons and bananas growing in the back yard!) but the opportunity to join the History Department at Pitt, with its strong transnational focus and with Pitt's amazing strength in international studies, was too exciting to resist.
 
What is your work/research focused on now? What got you interested in this topic/area?
I am interested in how technological change and digital information access is changing how societies work—our life in the real world—and also changing how academics learn about societies: how scholars can research the human past and present. (The latter was the focus of a Mellon Foundation-funded seminar "Information Ecosystems: Creating Data (and Absence) From the Quantitative to the Digital Age," which I co-led with an amazing group of collaborators from across disciplines and schools here at Pitt from 2019-21, and which brought to campus international visitors in disciplines ranging from geography to art history to data science to biology to philosophy.) 
 
From these core interests spring a couple of different lines of current work. One explores how source digitization and web-based search is changing the practice of historical research. Today historians can find information without knowing where to look for it: that's a radical change, and has fueled a wealth of new scholarship on global and transnational connections. What are the caveats and practices necessary to ensure this research is accurate, accountable, and equitably accessible? How do we train the next generation of scholars to take advantage of new technologies, while also recognizing the critical role that place-specific expertise continues to play in our ability to generate reliable and impactful knowledge?
 
I am also interested in how the rapid shift from a world in which most of our information came from personal interactions or print or broadcast media, to a world in which most information reaches us through digital platforms and social media, has impacted public life. Globally, we've seen governments challenged as a result of digitally-enabled processes that allow people to communicate and coordinate in new, decentralized ways. While sometimes that looks like an advance for participation or democracy, the same shifts allow intentional bad actors to take advantage of "information disorder" and "truth decay": spawning distrust, hampering our ability to gain accurate shared knowledge of the reality around us, and disrupting our problem-solving capacity. Research I've done in this realm ranges from exposing child-endangering Facebook groups to tracking false rumors about supposed "antifa" threats across Pennsylvania during the racial justice protests in Summer 2020.
 
I don't just want to observe these shared global problems: I try to work with others who are seeking to counter them, and local connection-building turns out to be a crucial part of that.  As co-lead of the Pitt Disinformation Lab's Southwest PA Civic Resilience Initiative, based in Pitt's Institute for Cybersecurity, Policy, and Law, I've helped pilot community interventions to push back against what we call the "distrust-disinformation cycle," working with partners like the Homewood Children's Village Citizens' Leadership Academy and borough councilmembers and clergy in Baldwin and Whitehall.  
 
As a global scholar, where have you traveled to work and study?
I have conducted research in England, Jamaica, Trinidad, Barbados, Grenada, Venezuela, Panama, and Costa Rica, and participated in workshops as part of ongoing collaborations in South Africa, India, Germany, Argentina, Brazil, Colombia, Canada, the UK, and beyond.
 
What are you most excited about as you transition into your new role as Director of Global Studies? What projects do you hope to take on at UCIS?
Pitt's Global Studies Center is at the forefront of initiatives that bring together students and faculty for real-world impact in our region, our commonwealth, and our world. GSC runs unique and vital programs like the Pennsylvania Governor's School for Global and International Studies, which brings high-school sophomores and juniors from across Pennsylvania and beyond—including now, international students as well—to learn about the shared challenges confronting our world. The Global Studies Center's new Global Appalachian Learning Alliance (GALA) is building out a network institutions of higher education throughout Appalachia to help students and stakeholders learn about and navigate the global processes that have shaped our past, present, and futures. The story of America's Rust Belt is a global story, one that has generated similar regions across the globe: regions that have much to learn from each other's resilience. Global processes aren't only relevant to fast-growing cities or cosmopolitan coasts. On the contrary, we are only going to be able to advance in tackling our shared international problems if we encompass knowledge and insights from people in small towns and rural regions who are equally participants in our global present.
 
Through most of your career, your scholarship has focused on Latin America. How do you hope to expand that regional focus to a more global focus at the Global Studies Center?
Really, from the start my scholarship has relied on the great strengths of the area studies model—in-depth contextual knowledge, sustained international academic partnerships, place-based learning and accountability—while pursuing topics that require transnational and global reach. I've studied international migration and worked with collaborators from around the world on global labor history, and now more recently, on shared threats to democracy in a digital age. Global Studies, which is synergistic with but also different from the other UCIS centers, is a natural home.
 
What's one interesting fact that people might not know about you? 
I have four kids, ages eleven to twenty-nine, who keep me honest by never letting me take myself too seriously. Oh: and I am pretty good at repairing large appliances. Is your refrigerator no longer cooling properly? Dryer refusing to start? Ask me anything!