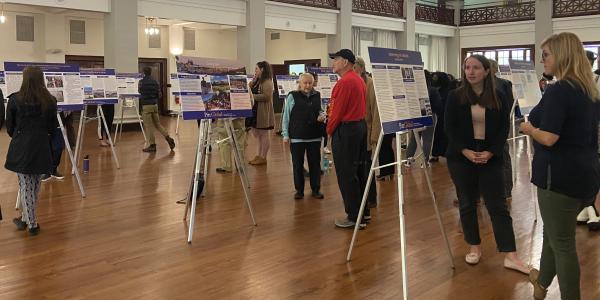 On Tuesday, October 18, scholars supported by the Nationality Rooms and Intercultural Exchange Programs flocked to the Alumni Hall ballroom to celebrate International Education Week with posters and stories from around the world in tow. These graduate and undergraduate students stood ready to discuss their experiences abroad while attendees strolled around the room, eager to engage with the next generation of global scholars. 
 
These students represented the 49 NRIEP awards given in the summer 2022 cycle, which included four awards to scholars who were originally selected in 2020 but saw their travel plans delayed by COVID-19.
 
Sydney Kelley, a pre-law major, traveled to Ireland to study their justice system and learn more about law abroad. Kelley said, "Getting to go to Ireland was an absolutely amazing experience. It gave me so much insight into the future career that I want to pursue in the legal industry. Also, getting to see so much more of the world and learn about perspectives that I have on the world and compare those to others…it was just an incredible experience in that regard. I was so fortunate to have the support of the Nationality Rooms and the Irish Room Committee."
 
Elizabeth Pacifico complemented her nursing studies with a stint in Austria, learning more about their healthcare system and bringing back best practices to share with colleagues in the United States. Pacifico said, "I think what made [this trip] so meaningful was that it kind of got me out of my comfort zone…I think that that's important because we all have pros and cons to our own healthcare systems and if we're able to learn from each other, we can build a better healthcare system, not only for our people, but for other people, and I think that's really important because the sharing of knowledge helps advance our world."
 
Some students chose to focus their trip on deeper language study, rather than their majors. Isabel Wolf Lee studies engineering but chose to take a trip to Spain to immerse herself in the language and culture. Her trip helped her not only learn more about Spain, but also about what she wants for herself on her path forward. Lee said, "Spain helped me realize what I wanted from my full-time job and where that was located. I wanted a bigger city with more diversity and being in a cultural epicenter was big for me, too."
 
NRIEP staff were among the attendees strolling poster-to-poster and getting both stories and thank yous from their scholars. They also had plenty of materials on future opportunities to share, and all interested students were encouraged to take some and begin planning their own global learning experiences.
 
The NRIEP scholarships are supported by committees of community volunteers who represent the Nationality and Heritage Room Committees. Current and future Pitt students interested in pursuing global learning experiences abroad with support from the Nationality Rooms and Intercultural Exchange Programs should visit the NRIEP website or contact Molly McSweeney, Community Engagement and Scholarship Coordinator, nriep@pitt.edu.