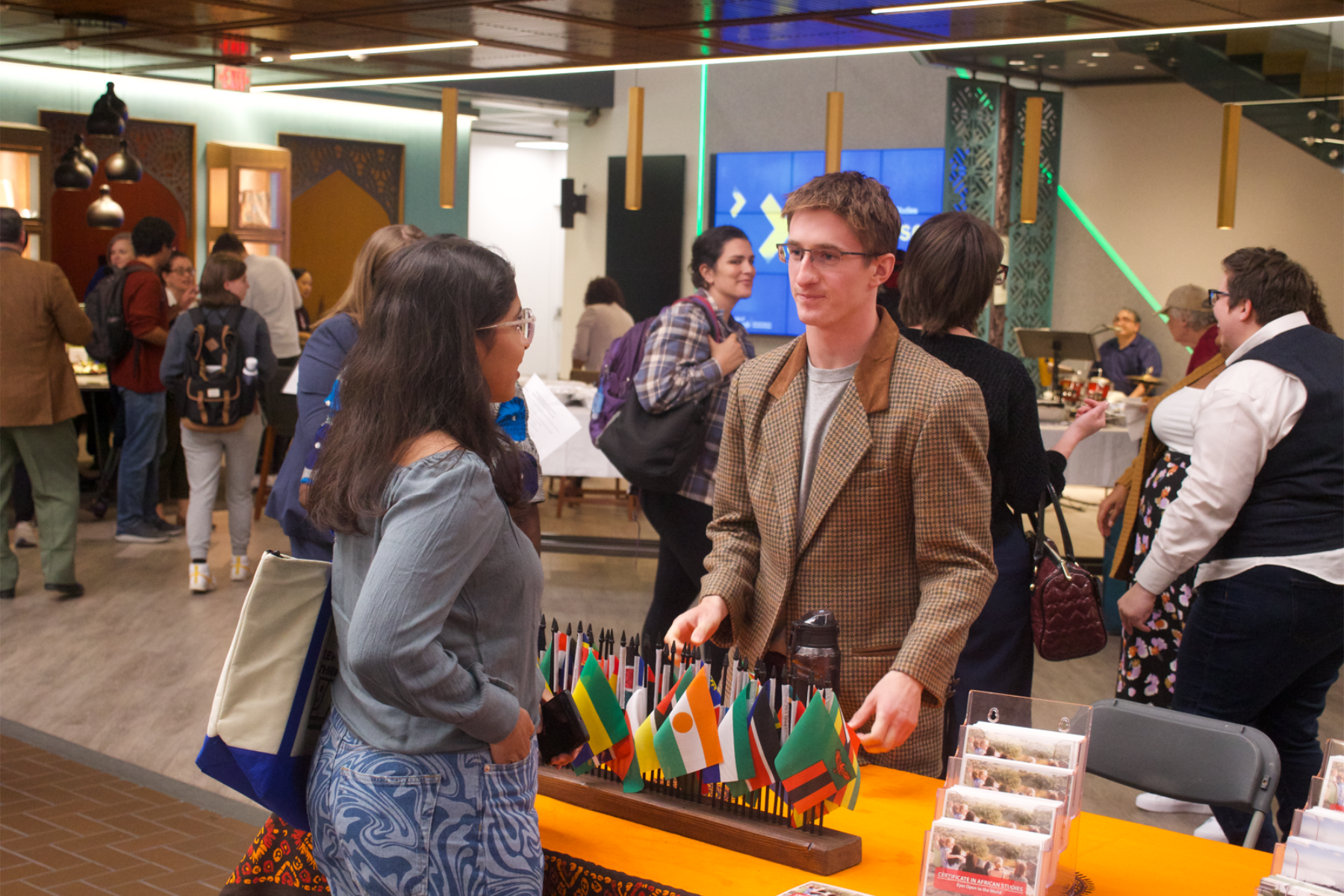 On Friday, September 23, UCIS' academic centers came together to welcome students, faculty, and staff to the Global Hub in Posvar Hall  for the 2022 school year.  
After two long years of remote work and learning and a new digital hybrid world, colleagues who hadn't seen each other in-person for ages talked and laughed together. Some students and staff members, new to the Pitt family since the pandemic began, were able to experience a Hub event in person for the first time. 
Allyson Delnore, UCIS' Executive Director of Academic Affairs, said, "The centers' welcome receptions were always a highlight of back to school for many of us. Each center always held their own reception, infusing it with their own personalities. But after two years of virtual 'receptions', it felt like a great time to do something together. We wanted to turn up the volume, combine all those personalities into one big celebration, and really kick off this new academic year." 
As with most UCIS events, this one wasn't complete without a sampling of global delicacies. The Hub's long "kitchen island" table was lined with dumplings, pupusas, empanadas, banitsa, and more, all supplied by the UCIS centers. The buffet line stretched nearly to the elevators until the global potluck was completely wiped out. 
After milling about, grabbing some food, and picking up fliers from center tables, attendees were treated to updates from Vice Chancellor of Global Affairs Ariel Armony and center staff. One prominent update shared by the Asian Studies Center, Global Studies Center, Center for African Studies, Center for Russian, East European, and Eurasian Studies, Center for Latin American Studies, and European Studies Center was the exciting Title VI funding news. Others introduced upcoming events, courses, visiting scholars, and study abroad trips. 
Center news was bookended with performances from Fresh Entertainment by Student Artists (FRESA) and Trio Nova, sharing a cover of the song Girls by Aespa and a jazz interlude, respectively. 
As the reception wound down, attendees slowly trickled out of the Hub, armed with UCIS print materials and excited for the year ahead.