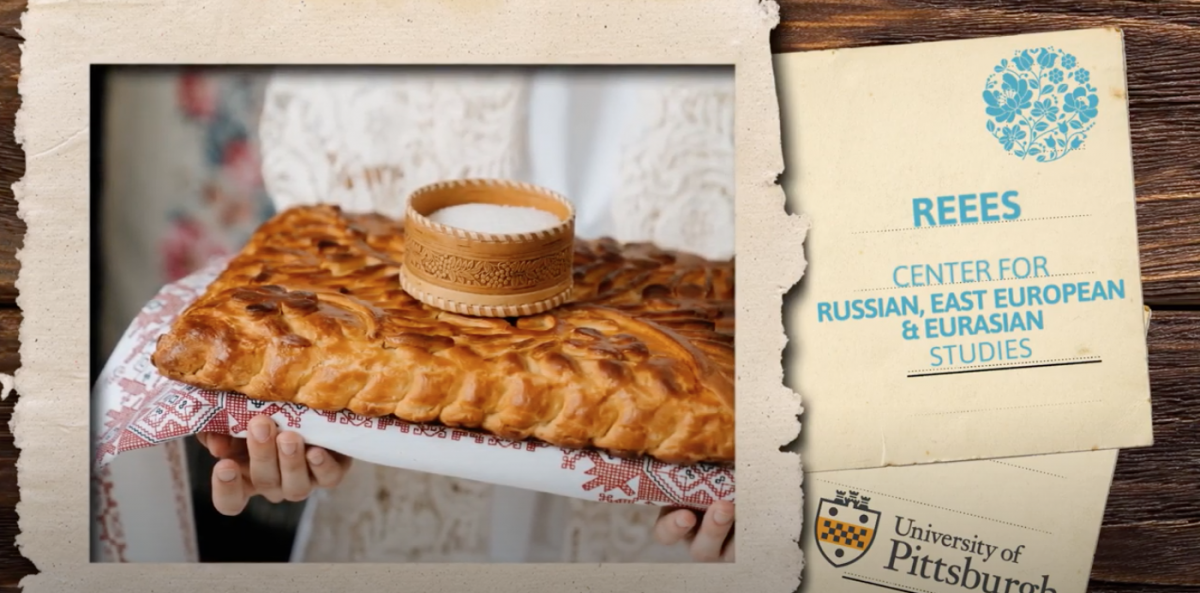 WATCH A VIDEO 
about earning an
undergraduate certificate
REEES Certificate Program
The Russian, East European & Eurasian Studies certificate is an interdisciplinary credential that combines foreign language training and multidisciplinary area studies courses. Through this stimulating program, students develop a broad understanding of the historical and cultural processes shaping states and societies in Eastern Europe, Russia, and Eurasia. Additional benefits include: enhanced career opportunities, specialized advising, access to scholarships and study abroad opportunities.
Students in any major who wish to add a Russian, East European, or Eurasian focus to their regular undergraduate degree can enroll in the REEES Certificate program. Courses taken for the certificate program may also fulfill general education requirements and some major requirements, and often do not increase students' overall course load. Students who would like to officially join a program may do so by meeting with the REEES Advisor.
Academic Requirements
Certificate requirements have three components: language proficiency, area studies courses, and a digital portfolio. Some Certificate requirements are met with general education credits, courses from study abroad, transfer credits, and electives.
Language Proficiency
A student must complete a minimum of two years of college-level study (four semesters), or demonstrate equivalent proficiency, in a language of the former Soviet Union, East/Central Europe, or Central Asia. 
 
REEES Courses
15 credits in non-language REEES courses are required. Courses must be taken in at least three different departments. Up to two courses may be taken in the student's major department. Students must achieve an overall average GPA of 3.0 on this coursework.
 
Digital Portfolio
Students will produce a digital portfolio that will include research, work/internship experiences, study abroad, extra-curricular activities, and exceptional coursework to highlight expertise in REEES.
Contact REEES with any advising questions.
The Capstone Course in Russian, East European & Eurasian Studies
This course is designed as a capstone of the multidisciplinary knowledge that you have accumulated in pursuing a certificate in Russian, East European and Eurasian Studies. The objective is to provide you with the opportunity to draw on and synthesize all of the skills and knowledge gained in the various courses and seminars that you have taken up until this point, and apply them to a topic of particular interest to you.  The course will culminate in an analytical/research paper on a topic in Russian, East European and Eurasian Studies to be chosen by each individual student.  The paper will draw on methodologies and literature from multiple disciplines, such as political science, and anthropology, and history. 

During the first half of the course, readings will be focused on research methodologies, and class time will be devoted to discussion about varying approaches to research in Russia, Eastern Europe and Eurasia.  Students will simultaneously define their own topics for research, identify source material, and begin data collection/proposal development.

During the second half of the course, students will complete a research paper, drawing on sources from multiple disciplines and employing a range of methodological techniques in the social sciences and humanities. Class time will largely be dedicated to working on research papers, including one-on-one or small group consultation with the instructor.
Related Concentration in European and Eurasian Studies
The Related Concentration, administered in collaboration with the
European Studies Center
, is designed to let students explore their interest in both the REEES and ESC world areas so that it fits comfortably alongside their majors or minors. It appeals particularly to pre-professional students who wish to broaden their international experience while minimizing language requirements. It is crafted to offer comparative study of your intended professional field—pre-medicine, pre-law, business, engineering, and health and rehab sciences—while capitalizing on your existing European/Eurasian language credits. This individualized, interdisciplinary credential provides a context for studying abroad and complements most academic plans and majors. 
Mediterranean Studies Certificate
The University Center for International Studies now offers a 
Certificate in Mediterranean Studies 
at both the undergraduate and the graduate level. Through coursework and world language study, Pitt students can examine issues and themes across the Mediterranean world over a broad chronological span – from Antiquity to the present. The region highlights the interconnectedness of North Africa, the Levant, Anatolia, Southern Europe, and the Balkans, thus the certificate is offered by the European Studies Center in collaboration with the African Studies Program, the Center for Russian, East European, and Eurasian Studies, and the Global Studies Center. This interdisciplinary certificate program will allow students to contextualize the ideas of Mediterranean cultures past and present and examine the influence of those ideas outside of the region. The academic requirements are similar to those of the REEES Certificate outlined above.
Bachelor of Philosophy in International and Area Studies – Russian, East European and Eurasian Studies Track
This is an interdisciplinary, research-based degree offered by the University Honors College in collaboration with REEES. Although requirements for this degree are rigorous, the personal, academic, and professional benefits are enormous.
Certificate in Central European Studies
The Center for Russian, East European, and Eurasian Studies and the European Studies Center jointly administer the
Central European Studies Certificate
targets students who are interested in exploring the specific experiences of Central European societies during the 19th and 20th centuries. This includes the formation and transformation of regional identifications in places of ethnic and religious diversity, myth-making and collective memory, migration and its effects on societies, democracy and authoritarianism, empires and nation-states, war and mass violence, Europe's Cold War division but also the peaceful revolutions of 1989. Central Europe is the lens to study many of the most important global processes of the last two centuries, such as imperialism and imperial expansion and competition, the emergence of the nation-states, nationalism and genocide, industrialization, democratization and economic transformation, migration and racism, multiculturalism and language diversity. Central Europe  is often marked as peripheral, but the region shows that it is was and is closely entangled with the wider world and shaped both European and global political, economic, social and cultural dynamics. Given that these processes play out in a great variety of forms – be it in politics, social movements, literature, art, architecture, or in music – the interdisciplinary nature of a certificate anchored in the area studies centers provides the appropriate intellectual and academic framework.
Students interested in a REEES credential should contact the REEES advisor.