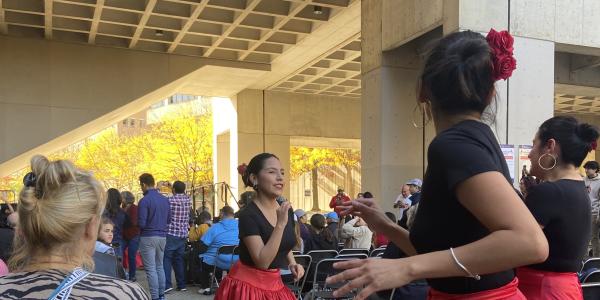 Kicking off International Education Week is a tough charge, but the Center for Latin American Studies' (CLAS) Latin American and Caribbean Festival was the perfect opener. This year was a special one for the festival—it marked both the event's 40th iteration and first full-sized in-person incarnation since the pandemic shut down large social gatherings two years ago.
 
The day's events started as a low hum and quickly grew into a loud and lively festival packed with vendors. CLAS drew an impressive crowd through mainly word-of-mouth advertising, full of Pittsburghers with Latin American and Caribbean roots eager to celebrate their cultures and connect with community members. Music and conversation blanketed Posvar Patio, inviting passersby in and keeping attendees excited and engaged. Of course, no party is complete without food, so guests had no shortage of choices—empanadas, flan and tres leches cake, tacos, and more were available from local businesses.
 
The festival was a great opportunity to examine where CLAS has come from and where they're headed over the next few—or next 40—years. 
 
CLAS Director Dr. Keila Grinberg and Pittsburgh Mayor Ed Gainey prefaced an afternoon of performances with remarks on the future of Pittsburgh's Latin American presence. Dr. Grinberg said that CLAS will continue to expand on the crucial work they've already done and will spend the year focused on the struggle for rights in Latin America, working with partners there, engaging with meaningful research, examining struggles and conquests and the fight for democracy. 
 
Mayor Gainey expressed his support for celebration of diverse cultures across Pittsburgh and said, "…the more culture we experience, the more culture we know, the deeper and more rich we are. And so to be here today, to celebrate the Latino culture, I am so thankful as the mayor of the city of Pittsburgh, that you have blessed this city today. You have made this city honorable today. And in twenty years, we don't want this cultural event just to be in Oakland. In twenty years, we wanna watch it march downtown into Point State Park and celebrate culture."
 
Both Gainey and Grinberg left the crowd feeling inspired and energized for the work of the coming year; ready to eat, sing, dance, laugh, and then get to work on new projects, research, and plans to celebrate Latin American and Caribbean culture across the steel city.
 
Dr. Manuel Roman-Lacayo, associate director of the Center for Latin American Studies, said, "When Carmelo Mesa-Lago and Shirley Kregar created the festival in 1979, they saw it as a way of bringing Latin America to Pitt students. The Latin American and Caribbean community was small and dispersed at the time, and very quickly the Festival became the annual signature event gathering in the region. As that community has grown, so has our Festival. We are gratified to host an event that straddles Latinx and Hispanic Heritage Month and International Week, also symbolizing Pitt's continuing leadership within an ever-richer community while reveling in the joy, vibrancy and diversity that makes the festival unique."
 
Dr. Grinberg and Mayor Gainey turned the stage over to a full bill of entertainers, a diverse group representing Peru, Brazil, Colombia, and more. Wayta Peru, Pittsburgh Tango Connection, the Latin American Cultural Union, the Pittsburgh Samba Group, and Palenque Colombian Dance Ensemble translated tradition into action, entertaining guests for hours. Palenque treated their performance as an opportunity to both entertain and educate; one of their dance pieces was focused on the hard work of gold mining in Colombia and others showcased traditional garb and culture from different regions of the country. The crowd's energy rose as samba drumbeats thudded and tango music wove its way around the patio. It was easy to feel the heartbeat of each community present, through their music, dance, conversation, and cheers when performers representing their country took the stage. 
The celebration lasted into the night, concluding around 8 pm and leaving attendees eager for next year's celebration.