Pittsburgh is an ideal place for a program devoted to the study of Russia, East Europe & Eurasia. In the Pittsburgh metropolitan area, one of every four people is either an immigrant or the child of one; of those, one in three have roots in East/Central Europe or the former Soviet Union. This rich local heritage provides for regular contacts with the region's history, culture, and languages. It also offers a support system through organizations such as the community-based committees of the Nationality Rooms in the Cathedral of Learning. Nine of the 27 room committees link the University to peoples and cultures of the REEES area.
The Center's joint activities with the many local ethnic organizations range from annual cultural heritage festivals, to student programs, to targeted professional development and technical assistance. Organizations such as the Slovak Foundation, the Kosciuszko Foundation, the Croatian Fraternal Union, the Serb National Federation, the Ukrainian Technological Society, and the Ukrainian Cultural and Humanitarian Institute contribute significantly to scholarly activities at the University. REEES also cooperates with local arts, business, and other community organizations on diverse programming related to the Center's world area.
To learn about all events and programs, please visit the UCIS events calendar or sign up for our weekly news blast and quarterly newsletters. 
Recent Programs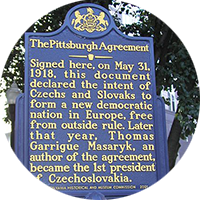 The signing of the Pittsburgh Agreement on May 31, 1918 was a milestone leading to the establishment of an independent Czechoslovak state after World War I. To explore the historical background of the Pittsburgh Agreement and commemorate its centennial, REEES partnered with the American Friends of the Czech Republic and the Friends of Slovakia to host the following speakers for a symposium:
Dr. Hugh Agnew - Elliott School of International Affairs, George Washington University, Washington
Dr. Matej Hanula - Institute of History of the Slovak Academy of Sciences, Bratislava
Dr. Milada Polišenská - Anglo-American University, Prague
Moderator: Robert W. Doubek, Founding President of the American Friends of the Czech Republic, 1995-1998