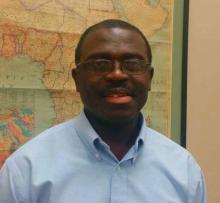 Contact Information:
Office: 4140 Wesley W. Posvar Hall
Phone: 412-624-4126
Professional Biography:
E. Kwadwo O. Beeko is currently Adjunct Faculty at the Department of Africana Studies and the Department of Music at the University of Pittsburgh, and an affiliated faculty member at the African Studies Program. Dr. Beeko has a long-term experience in teaching and interacting with students, with proven success in motivating students to learn and work in a classroom setting; Personal enthusiasm, humor, and commitment, essential for generating respect and interest, as well as for promoting teamwork among students.
Research Interests:
Dr. Beeko's current research is on the Ghanaian Neo-Pentecostal Charismatic performance. The aim is further the previous research on the churches performance, seeking to explore how the processes of innovation, creativity, and ingenuity, that usually occur during performances, usually become a vital source and central to the flow of the lives of the members of these churches, and how such process leads to subsequent transformation in the members ways and forms of worship as found today. Dr. Beeko's future research interest covers broadly on the performance traditions in Africa and the African-Diaspora cultures. His primary aim is to explore the musical development and changes occurring within these interrelated Black cultures, both in the continent and the Diaspora. And based on such broad perspective, his future plans of research activities and publication will include several areas as "African Musical Practices: Journeying from the Traditional to the Global;" and "Black Performance Aesthetics: Agency, Resistance, and the Cultural Politics of Identity in the Performance of Ghanaian Cultural Troupes."
Publications:
"African Musical Traditions and Practices: Past and Current Trends," in (Re)Tracing Africa: A Multi-Disciplinary Study of African History, Societies, and Culture, edited by Salome C. Nnoromele and Ogechi E. Anyanwu, Dubuque: Kendall Hunt Publishing Co. 2012: 153-176.
"The Dual-Relationship Concept of Right-Ownership in Akan Musical Tradition: A Solution for the Individual and Communal Rights-Ownership Conflicts in Music Production," International Journal of Cultural Property, Vol. 18, No. 3, 2011: 337-364.
"Toward a New Stylistic Identity: An Analytical Overview of Ghanaian Contemporary Choral Music," in Composition in Africa and the Diaspora Series, Vol.2, edited by Akin Euba & Cynthia Tse Kimberlin, UK: MRI Press, 2010: 33-41.
Creative Processes in Akan Musical Cultures: Innovations within Tradition. Germany: VDM-Verlag Dr. Muller Aktiengesell Schaft & Co., KG. 2009. (Originally a Ph.D. Dissert., 2005).
"Construction of Stylistic Identity in the Context of Creativity: J. H. Kwabena Nketia's Akan Solo Pieces, the Sankudwom," in Festschrift in Honor of Professor Emeritus J. H. Kwabena Nketia, (yet to be published).
Education:
Doctor of Philosophy in Ethnomusicology (Ph.D. Mus.) University of Pittsburgh, Pittsburgh (2005)
Master of Philosophy in Music (M.Phil. Mus.) University of Ghana, Legon (2000)
Bachelor of Education in Music and Mathematics (B.Ed. Mus. Hons.) University of Cape Coast, Ghana (1996)
Post-Diploma in Music Education (P.D.M.E.) National Academy of Music, Winneba, Ghana (1988)
Diploma in Music (Dip. Mus.) National Academy of Music, Ghana (1984)
Piano Performance Certificate (Grade VIII) Associated Board of the Royal Schools of Music, London, UK (1979)