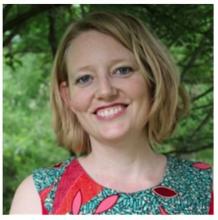 Anna-Maria Karnes is the Advisor for graduate and undergraduate students at the Center for African Studies at the University of Pittsburgh. Additionally, as the Community Engagement Coordinator, she finds ways to share knowledge and cultural understanding about Africa with communities and schools in the tri-state area and connects them with people from the African continent.
Born in Cameroon, Karnes has had a love for Africa her entire life. She has had the opportunity to travel to the Democratic Republic of the Congo, South Africa, Tanzania, Ethiopia, Uganda, and Kenya. Anna-Maria has a deep-rooted passion for education. Prior to joining Pitt, she taught English as a Second and Foreign language at the university and K-12 levels for 9 years. Texas, Mexico, Turkey, Ethiopia, and Pennsylvania are some the places she has taught. Karnes received her PhD from the University of Pittsburgh School of Education in 2019 where she focused on women and higher education in Ethiopia.
In her role at Pitt she has had the opportunity to take students and teachers abroad to Tanzania, Uganda, and Ethiopia. Anna-Maria loves engaging with student and learning about their passions and career goals as well as encouraging students to travel to Africa on study abroad trips. Her door is always open to anyone who would like to stop by and share their African experiences or to discuss opportunities.