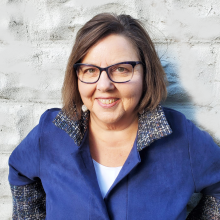 Dr. Catherine Koverola is an executive leader in higher education with extensive global engagement particularly across the African continent. She has a lifelong commitment to building inclusive diverse academic communities and social uplift. 
At the University of Pittsburgh Dr. Koverola has served as the president of the Bradford and Titusville regional campuses. Previously, she was the inaugural provost at the African Leadership University based in Mauritius where she laid the academic foundation for a multi campus institution. While provost at Cambridge College she co-directed the Mandela Washington Fellows program. At Lesley University in partnership with UNICEF Guyana and the Ministry of Education and Social Services she led the development of a graduate program for child welfare workers in Guyana. Dr. Koverola has been engaged in global partnerships in Malawi, Uganda, and Rwanda as well as in Jordan, Israel, and Colombia and lectured in both Finland and Norway. An outstanding fundraiser over her career she has raised over $20 million to support student and faculty scholarship efforts and institutional priorities.
Dr. Koverola is an interdisciplinary minded clinical psychologist and internationally recognized scholar in interpersonal violence. She brings clinical and research experience with indigenous communities in Canada and Alaska where she developed models for culturally relevant care for traumatized populations. Dr. Koverola brings a well-honed intercultural understanding to her work as evidenced by her most recent co-authored book published by Routledge, Building Trust between Faculty and Administrators: An Intercultural Perspective.