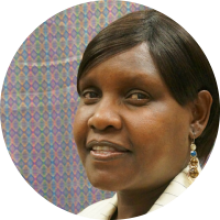 Macrina C. Lelei is the Associate Director of the Center for African Studies.  She has been with the Center since its founding in 2001 when she served as the Graduate Student Assistant (GSA) responsible for assisting the program director with student advising and programming. She received her formative education in her home country of Kenya where she also obtained her Bachelor's degree in Education from Kenyatta University. She taught high school in Kenya before coming to the United States to pursue graduate education. She studied at the University of Pittsburgh in the School of Library & Information Science where she obtained her Master's Degree (1997); and the School of Education, Department of Administrative & Policy Studies at the University of Pittsburgh where she obtained her Ph.D. (2002).
Dr. Lelei enjoys working with students, advising them and providing information and assistance to navigate African Studies within Pitt's international Studies framework, and to make appropriate decisions in their study plans as it relates to their academic, career and personal goals. She particularly encourages interested students to take African Studies content courses, travel to Africa for study abroad, internships or service related activities to help them enhance their knowledge of Africa. She works in close collaboration with faculty affiliates to offer more learning opportunities through new courses with enriched content on Africa, and out of the classroom learning opportunities through seminars, workshops, events, and activities that promote cross-cultural exchanges and networking. She has developed programming not only for our students but also for K-12 students to increase opportunities for learning about Africa. She continues to explore opportunities to advance the program's goals and enrich student-learning experiences.
Dr. Lelei is also a part-time faculty for the School of Education where she teaches courses from time to time including the course: "Education and International Development". Her research focus is on the development of education studying the expansion of education provision in Africa particularly in East Africa. She researches issues of educational access, equity and quality and policy implications. She has published books and articles including: the (2015) chapter "Toward Achieving Universal Primary Education in Kenya: The Free Primary Education Policies" in the Book "Comparative International Perspectives on Education and Social Change in Developing Counties and Indigenous Peoples in Developing countries, and Education Development in Kenya: Enhancing Access and Quality (2012).